Last week, the Japanese whaling vessel Shonan Maru No. 2 rammed Ady Gil, a trimaran operated by the Sea Shepherd Conservation Society, off the coast of Antarctica. Ady Gil was part of a small Sea Shepherd fleet attempting to disrupt whaling operations in the Southern Ocean. The collision was captured by the Shonan Maru's crew.
The trimaran, a relatively frail thing that was never designed for polar waters, let alone sea battles, reportedly cost more than a million dollars. It might be easy to regard its destruction a kind of failure, but, as Watson has demonstrated time and again, this would be inapt, if not mistaken. For at least one global news cycle, anyway, he has done what a million dollars worth of paid television advertising might not be able to do: he has made the modern-day killing of whales a headline. More significant, perhaps, he appears to have drawn the Japanese whalers into the mode of semi-lawless, ship-to-ship aggression where he excels. He has lured them into a street fight.
For years Sea Shepherd activists have harassed the Japanese whaling fleet using tactics ranging from fouling propellers to ramming. This whaling season, the Sea Shepherds deployed two new vessels in addition to their mothership, MV Steve Irwin. The new vessels include the Ady Gil, destroyed in the collision last week, and MV Bob Barker, a former Norwegian whaling vessel purchased with money donated by the long time host of The Price Is Right, after whom the ship is named.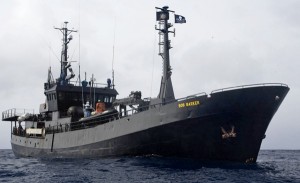 First, the Barker was secretly converted, given Sea Shepherd's signature black paint job, and secretly dispatched to the Southern Ocean, flying a Norwegian flag. That ruse, making it appear that the ship was from one of the three last countries that support commercial whaling (the others are Iceland and Japan), was to fool the Japanese fleet into allowing the boat to get close. When they neared the Japanese fleet, the crew lowered Norway's flag and hoisted their preferred pennant: The Jolly Roger, the skull-and-crossbones flag associated with 17th- and 18th-century piracy.
The new ships hint at the growing resources of the environmental group, particularly after their exploits have become the subject of a popular reality TV show. If the conflict between Sea Shepherds and whalers continues to escalate, it is only a matter of time before government navies become involved, exactly what the Sea Shepherds are hoping for.

Posted by
Christopher Albon
in
Navy