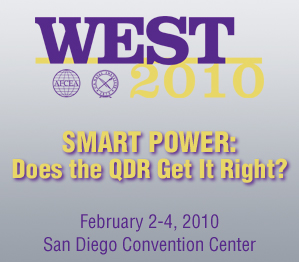 This is going to be good. We have Galrahn, Maggie, CDR Salamander, Jim Dolbow, FbL and URR all covering this event for us, The Naval Institute, which we co-host (sponsor) every year with AFCEA.
Even better, there's a great list of panels and speakers, including: Gen Cartwright, ADM Stavridis, and Information Dissemination's very own Bryan McGrath.
Join us at our booth for an Author Signings, Wednesday, 3 February from 4:00pm – 5:30pm
Vincent P. O'Hara, STRUGGLE FOR THE MIDDLE SEA & U.S. NAVY AGAINST THE AXIS
Norman Friedman, NETWORK-CENTRIC WARFARE & NAVAL FIREPOWER
Kit Lavell, FLYING BLACK PONIES
Thomas C. Hone and Trent Hone, BATTLE LINE
Panels include:
Panel: "Winning Wars: Did the QDR Get it Right?
Cyber Issues: What Should Be the Priorities?
What Kind of Navy Does America Need?
And a whole lot more, see the full schedule here:
Can't be there for the event? Have a good question to ask? Leave a comment here to let us know…or look out on the blogs, follow us on Twitter (#West10) or our Facebook page
Saving the best for last, if you're one of the cool kids who get to go, you might get this impeccably designed, handy-dandy, pocket size Field Notes notebook to write down your thoughts.

Posted by
admin
in
Books
,
Naval Institute