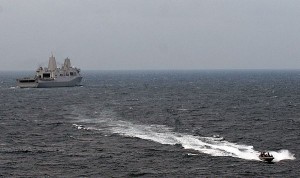 Stormy times ahead for Northrop Grumman's Gulf Shipyards and Navy shipbuilding.
First, news broke today that LPD-17 and LPD-21 are–even though they're desperately needed for Haiti service–now "sidelined," according to Insidedefense.com. 
The USS New York, less than a month from commissioning, has a bent crankshaft. Until that crankshaft is repaired LPD-21 will only be able to use three of four engines. The ship won't be able to get underway until next month because two engines need to be repaired.
No news yet on the prognosis for LPD-17. It is now in a Virginia shipyard.
LPD 19 and 20 suffered oil contamination problems (a potential precursor to bearing wear and crankshaft issues) earlier, but the Navy seems confident they're OK for now. LPD-18 seems OK.
What are we going to do with the LPD-17 program? Things were looking up. Last year, Undersecretary of the Navy Robert Work, in his 2009 Naval White Paper, wrote "after a troubled start, the LPD-17 program appears to have finally found its sea legs (pg 78)." Just how close-held was this issue? And did the failure to promptly disseminate news of LPD-17 problems derail the promulgation of good policy?
Navy Times reports even more bad tidings:
"Inspectors are rechecking every pipe weld aboard every ship built in the last several years at Avondale, La., or Pascagoula, Miss., including destroyers and small- and big-deck amphibs, after discovering so many problems that all pipe welders and Navy inspectors at both yards had to be decertified and then recertified to work on ships."
Welding issues appear to plague many vessels built at the Gulf shipyards. DDGs, LHD-8, every LPD…(No news yet on the Legend Class Coast Guard Cutters) suffer from about a 10-15 percent incidence of thin welds. We'll find out more over the coming weeks.
So, in short, we have a serious problem in shipbuilding (and shipbuilding oversight) in the Gulf, and a potentially serious design problem with the LPD-17s engines. I'd like to see some accountability here, but, in all honesty, I expect the folks who approved the LPD-17 engine designs will probably get some kind of award for helping create a new means to discover the bad welds…
At least we can all sit back and watch as different parts of the navy's shipbuilding community desperately try to shift the blame for this current fiasco onto somebody else.
With this, the LCS-1 problems and the EB sub welding issues, it's little wonder SECDEF Gates kept the Navy from testifying at the Jan 20 House Armed Services Committee meeting on Naval Force Structure!
For those who don't know, HASC's Seapower and Expeditionary Forces Subcommittee Chairman Gene Taylor's primary constituency base is from the Northrop Grumman Gulf Shipyards, so we can, as this story evolves, expect some fireworks as Congressman Taylor scrambles to protect his parochial interests.
Like any evolving story, it'll take time to get all the facts. Consider this merely a means to start a discussion…

Posted by
Defense Springboard
in
Coast Guard
,
Navy
Tags:
Gene Taylor
,
lpd-17
,
northrop grumman
,
Robert Work
,
Shipbuilding