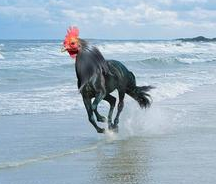 So, what are you doing this afternoon? Why, you're listening to Midrats, of course!
Set you alarms and adjust your schedules for a 5pm EST/1700R/2200Z showtime. Our special guest this week will be Mackenzie Eaglen, Research Fellow for National Security at The Heritage Foundation.
Join me with my fellow USNIBlog contributers and co-hosts EagleOne and Galrahn for a review of the Quadrennial Defense Review (QDR) we haven't seen yet (though we do have a predecisional draft to ponder).
The final draft is due out tomorrow – but why wait – what is the fun with that?
You only get this chance every four years – don't miss it. The first half hour will be a panel discussion based on the 20 JAN 09 HASC Seapower and Expeditionary Forces Subcommittee meeting's questions, and then we will bring in our guest for the second half of the hour.
To top it off, we'll try something different and take callers the entire hour – so no need to wait to get a word in edgewise. Our call-in number will be (347) 308-8397. Hope you can make it, but if you can't – you can get the archived shows from either the showpage or just do a search for our podcast "Midrats" in iTunes.

Posted by
CDRSalamander
in
Podcasts
Tags:
Midrats