Major thanks to all of the MIDN who were out of the Yard today and helping people get shoveled out.
For myself, I had an email from our intrepid blogger MIDN1/c Withington who asked if I needed help. Turns out I was good…but my brother [slacker!] who escaped south with his children, has neighbors along his drive who are wheelchair bound.
On my way to Gate 1 to pick up MIDN Withington, I stopped on College Ave and Shang Hai'd [with permission] two other generous MIDN [unsuspecting fools!] who immediately volunteered. Note that the houses downtown are 10 ft from the curb.
This driveway was at least 100 yds.
Thanks to :
MIDN 3/c Alexander King, 11th Company, USNA
MIDN 3/c Amber Jeter, 11th Company, USNA
MIDN 1/c Jeff Withington, 13th Company, USNA
Here's the photo…they're smiling through the pain…[see that house way in the distance…that's a long way]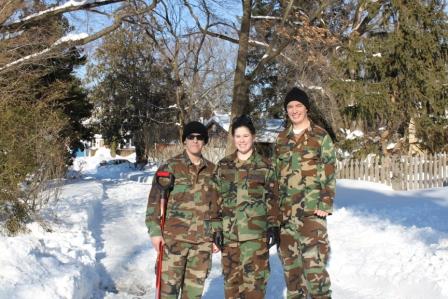 One last note, a Marine neighbor showed up at the same time and immediately set them on their mission.