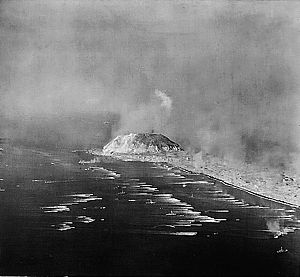 Shortly after 0830 on 19 February 1945, the assault ships, landing ships, landing craft, and LVTs standing off the beach of the Japanese stronghold of Iwo Jima saw the "Romeo" flag appear on the signal bridges of the designated ships of Richmond K. Turner's Task Force 51. Radios crackled with the identical message: "Land the Landing Force".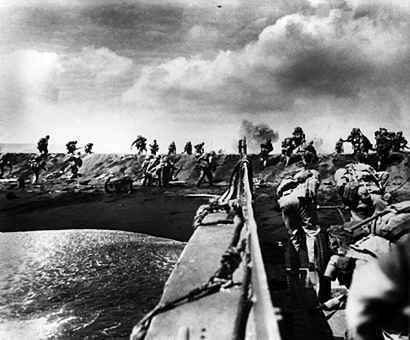 As the coxwains steered the amtracks and landing craft into assault waves and headed toward the beach, the bloodiest and most difficult 26 days in the history of the Marine Corps began. Fighting savagely against an entrenched, skilled, and determined foe, the forces of the V Amphibious Corps (3rd, 4th, and 5th Marine Divisions) under General Holland M. Smith would cover themselves with glory on this forbidding volcanic mass that was a stepping stone to the invasion of the Japanese homeland.
When the island was declared secure on 16 March, 1945, nearly 5.000 Marines and Sailors lay dead, with another 21,000 wounded, with nearly all the 21,000 Japanese defenders also dead. Twenty-seven Medals of Honor were awarded to 22 Marines and 5 Sailors. Admiral Chester Nimitz had proclaimed that, in the battle for Iwo, "uncommon valor was a common virtue". Also from the stinking slaughterhouse of Iwo Jima came the most famous photograph ever taken, Joe Rosenthal's iconic image of Easy Company, 28th Marines' flag raising.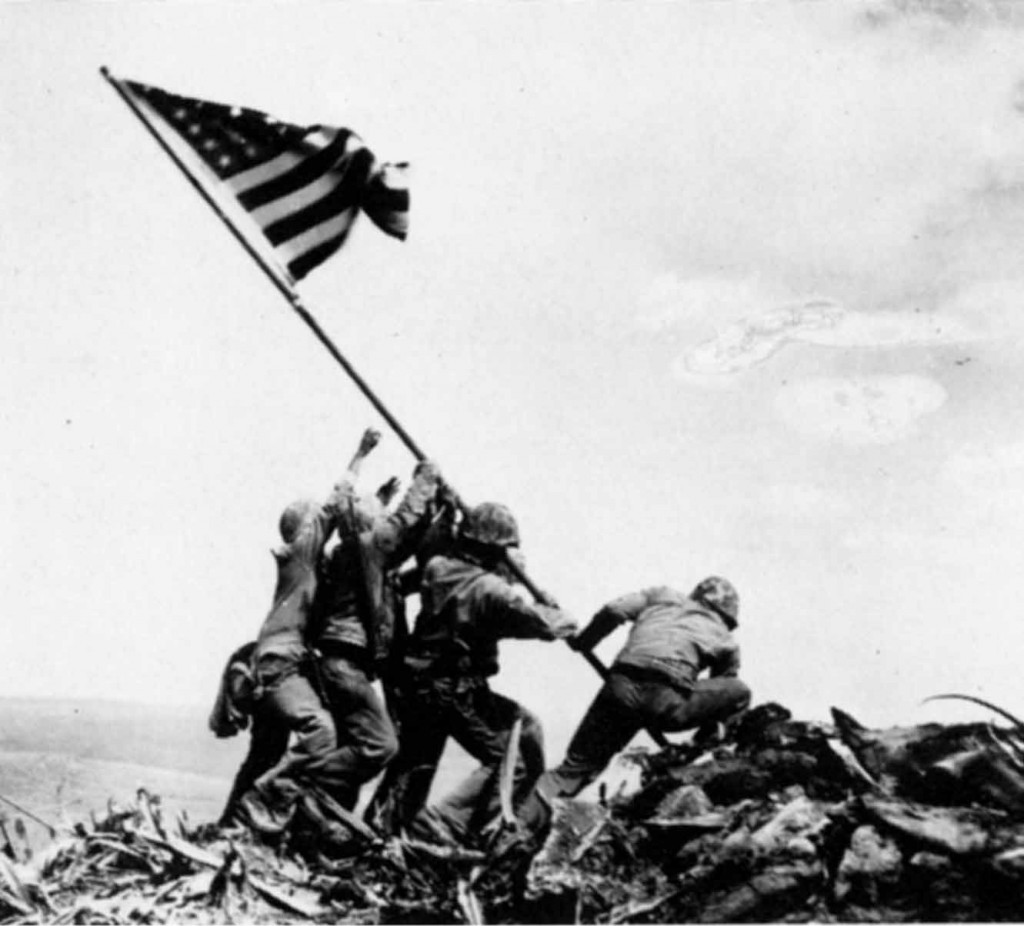 I won't try and describe those 26 days in this post. So much has been written about Iwo Jima that I could do nothing but disservice to attempt to re-tell those tales here. Please, read the works by Bill Ross, Eric Hammel, and so many others. The story, six and a half decades on, remains among the most compelling in the history of American men at arms.
What should be striking to planners today who discuss amphibious operations in terms of "operational maneuver" is the requirements in numbers of ships to land what was really a modest-sized force. The assault on Iwo Jima was a middling-sized amphibious assault by the standards of 1945. With an initial landing of around 30,000 Marines and 150 tanks, the landing at Iwo was much smaller than TORCH (North Africa) in 1942, HUSKY (Sicily) in 1943, and the 1944 operations of OVERLORD (Normandy), DRAGOON (Southern France), or even MacArthur's Pacific landings at Hollandia (New Guinea) and Luzon (Philippines).
An examination of forces shows that Admiral Turner's Task Force 51 (Joint Expeditionary Force) consisted of nearly five hundred ships and craft. Five HUNDRED. Among the ships of TF 51 were forty-three Attack Transports (APA), sixteen Attack Cargo Ships (AKA), six Fast Attack Transports (APD), thirty-one LSMs, and sixty-three LSTs. Sixty-five auxiliary ships, and nearly one hundred landing ships. Such numbers should be noted in today's discussions about amphibious capabilities and power projection.
However, on this milestone anniversary we should remember the men who fought on Iwo Jima, at places called Beach Green, the Meat Grinder, the Amphitheater, Suribachi, and a hundred others whose names were famous only to those who endured the furnace of that island. To those who survived and those who gave their lives, we owe each of you a debt that can never be repaid. Every single Marine since that battle has measured himself against you, and always will. Semper Fidelis.

Posted by
UltimaRatioReg
in
History
,
Marine Corps
,
Navy