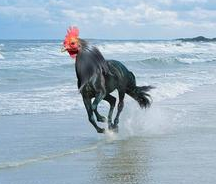 What is "Sea Control?" Well, today on Navy milblog radio Midrats, we're going to try to get a bead on it.
Is it,
– "… fundamentally, the ability to carry your, and your allies', commerce across the seas and to provide the means to project force upon a hostile, distant shore. A sea controller must limit the sea denial capabilities of the enemy."
– "… control over distant regions, … it must ultimately be decided by naval power, …, which represents the communications that form so prominent a feature in all strategy."
– "…the employment of naval forces, supported by land and air forces, as appropriate, to achieve military objectives in vital sea areas. Such operations include the destruction of enemy naval forces, the suppression of enemy sea commerce, the protection of vital sea lanes, and the establishment of local military superiority in areas of naval operations."
…or is it something else?
What does Sea Control mean in 2010 and where do we need to prepare be able to exercise it over the next decade?
These are some of the questions we will be asking this afternoon, 28FEB 1700R/2200Z/5pm EST.
Joining me on our panel will be Bryan BcGrath from InformationDissemination and fellow USNI Blogger EagleOne.
Our guest will be someone well known to readers of my homeblog, Robert C. (Barney) Rubel, CAPT USN(Ret), The Dean of the Center for Naval Warfare Studies at the Naval War College.
Join us live at the Episode page where you can listen and join the usual suspects in the chat room where you can feed us questions and provide comments as the show is going on. If you can't make it live, you can get to the archives at the blogtalkradio showpage, or subscribe to and download the podcast on iTunes.

Posted by
CDRSalamander
in
Podcasts
Tags:
Midrats