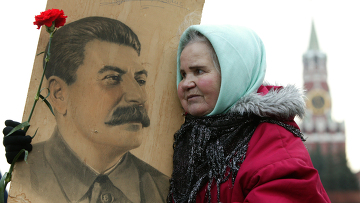 The story today from Reuters should give all Europe, especially the Eastern side, pause for reflection regarding Russia. On this, the 57th anniversary of the brutal Communist dictator's death, we are seeing resurgence in Russian pride and desire for returning to what Russians believe was the glory days of the Soviet Union. Vladimir Putin has spoken in those terms on several occasions.
Another line will be crossed at the 9 May Victory Day, the 65th anniversary of the defeat of Nazi Germany. For the first time since Khruschev's denunciation of him at the 20th COMINTERN in 1956, Stalin's image will appear in multiple official locations, and his contribution to victory in the Great Patriotic War will be given official recognition.
Lest we forget, much of Eastern Europe is only beginning its third decade of independence from either Imperial or Soviet Russia. Such news as Reuters brings us cannot make them feel any more secure, especially in light of the impotence of NATO in August of 2008 to stand up to the Russian colossus.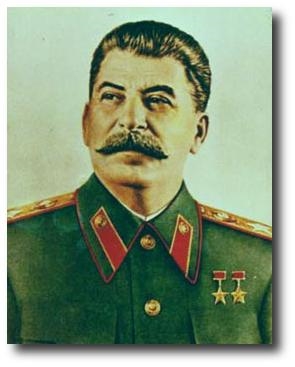 Stalin, as brutal as any dictator in the history of Europe, nonetheless represents a Soviet Russia whose armies and air forces made the whole world tremble. That Russia, a giant on the world stage, is an immense source of nostalgic pride for the older generation, and a rallying cry for the generation of Putin. Illogical and incomprehensible as it may be for Americans, such is indeed the case. Which is not to say Stalin is universally admired, nor Soviet Russia's return around the corner. But many more people than one might think look longingly back at those times and at Stalin.
In the Spring of 1992, when Boris Yeltsin was facing his first great economic crisis following the dissolution of the Soviet state, an American news network played a TASS interview with a wrinkled little babushka in a shabby overcoat. Her words literally made me sit back in my chair, as if struck in the chest. They were very nearly, if not exactly, these:
"Stalin was a butcher. He killed my grandfather, he killed my uncles. But when we had Stalin, we had toilet paper. And I want toilet paper!"
Roll that around in your head for a while.

Posted by
UltimaRatioReg
in
Foreign Policy
,
History