Today's London's Sunday Times shed light on even more damning evidence of Iranian involvement with the Taliban forces in Afghanistan. The article says, in part:
TALIBAN commanders have revealed that hundreds of insurgents have been trained in Iran to kill Nato forces in Afghanistan.

The commanders said they had learnt to mount complex ambushes and lay improvised explosive devices (IEDs), which have been responsible for most of the deaths of British troops in Helmand province.

The accounts of two commanders, in interviews with The Sunday Times, are the first descriptions of training of the Taliban in Iran.
The article goes on to discuss why Shia Iran has come to the aid of the Sunni Taliban. It should come as no surprise, but to many, it will.
A couple of questions for Mister Putin in Russia:
Is this the same Iran for whom you will be launching the Bushehr Nuclear Reactor? Have the Iranians agreed suddenly to IAEA inspections of the Bushehr site? If so, why have you not announced that to the West?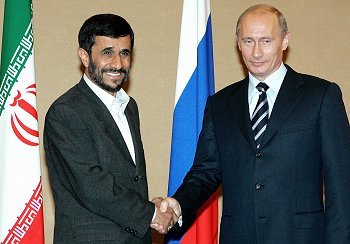 Here is a suggestion. Let us not harbor delusions about either regime, Iran or Russia, as we seem desperate to do with China.
Iran is a fiercely anti-Western Islamic theocracy bent on the destruction of Israel and subjugation of the non-Muslim world. They are seeking nuclear weapons, for sale to Non-State Actors (who would not hesitate to use those weapons in Amsterdam or Los Angeles), and for their own use, atop missiles that can range Tel Aviv and beyond. Iran's assistance to the Taliban (as well as Hezbollah and Al Qaeda) is part and parcel of such an anti-Western policy.
Russia, ruled by neo-Stalinist Putin, is actively helping Iran with its nuclear efforts. Putin is deliberately frustrating US aims at sanctions against Iran, and is well aware of Iran's activities in Gaza and Afghanistan. Russia is not an American ally, nor a partner, except in those rare instances when doing so (or appearing to do so) gains Russia an advantage. Russia is a rival and an adversary, and a dangerous one. Even without the military might she once had (and is anxious to rebuild at first opportunity), Russia has the economic and technological weapons to be that dangerous adversary, and uses them at every opportunity.
Secretary of State Clinton should know this as well as anyone after this latest trip. It is high time for the US to prepare and act accordingly.

Posted by
UltimaRatioReg
in
Foreign Policy
,
History
,
Homeland Security