I just want my M-14!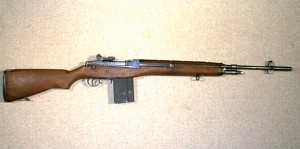 Maddening article the other day in the Associated Press. Seems, to almost nobody's surprise, that the 5.56mm 62-grain SS109 bullet is next to worthless at ranges beyond 300 meters when fired from the M-4 Carbine. As the article explains, the 14.5″ barrel of the M-4 in place of the 20″ barrel of the M-16A2 makes a barely adequate round entirely inadequate.
The AP article mentions the M110 sniper rifle, an AR-type design in the 7.62 NATO. I am sure it is a fine weapon, and has been well-received by the users. However, it is a sniper rifle and not for general issue. The M110 also weighs a robust 15 pounds.
It is high time to replace the M-4 and M-16A2 with something better. Not a new and "transformational" design taking decades and billions to develop. But by re-starting manufacture and updating the venerable M-14 battle rifle.
While no shrinking violet either, the M-14 fires the powerful 147-grain M80 7.62 NATO round effective as far as the eye or the scope can see. Update the design by eliminating the full automatic and by fitting a modern and lightweight fiberglass stock to the action. The loaded weight of the M-14 is just shy of 11 pounds, and this figure could be cut significantly (The M-16A2 weighs nearly 9 pounds loaded) . The M-14 is a rugged, reliable, accurate, and lethal rifle. And it is available. If necessary, begin a robust training program for unit and depot-level armorers, and restart manufacture of spare parts and replacement components.
Bring back the M-14. It belongs not in warehouses, but updated and refurbished, in the hands of US Servicemen who are at present being outgunned by weapons designed up to a century ago. And it can give us time to design an intermediate caliber weapon that will take us successfully onto the battlefields of the future.

Posted by
UltimaRatioReg
in
Air Force
,
Army
,
History
,
Marine Corps
,
Maritime Security
,
Navy