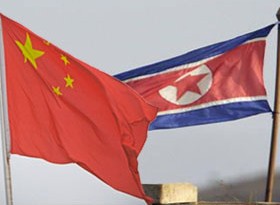 Let's review, shall we?
In June, 2009, I posted a piece that made the following assertions:
Recent comments from China's Foreign Ministry also make clear the role China has had, and continues to have, as the regional power that enables North Korea to defy the international community, most specifically the United States, in its continued development of an arsenal of long-range nuclear-tipped ICBMs.

and:

The concept of the Thousand Ship Navy, particularly when that "Navy" includes our Chinese "partners", should once and for all be recognized as foolishly naive.
This today from Bloomberg. Notable in the article are some revealing paragraphs:
May 27 (Bloomberg) — Chinese Premier Wen Jiabao is likely to resist pressure to acknowledge that North Korea torpedoed a South Korean warship when he flies to Seoul tomorrow to meet South Korean President Lee Myung Bak and Japan's Yukio Hatoyama.

China hasn't followed South Korea, Japan and the U.S. in blaming North Korea for the March 26 sinking of the Cheonan, which killed 46 sailors. Vice Foreign Minister Zhang Zhijun yesterday repeated a call for "restraint" by both sides and said China had no "firsthand information" on the sinking.
US Secretary of State Clinton expressed US goals:
"We expect to be working together with China in responding to North Korea's provocative action and promoting stability in the region," Clinton said May 25 in Beijing at the conclusion of two days of talks.
But they appear to be radically different from those of the People's Republic of China:
China's government may conclude that taking South Korea's side will only stoke a cycle of escalation, Shen said. China may be willing to condemn the sinking of the Cheonan in a United Nations Security Council resolution provided that North Korea is not singled out for blame, Shen said.
The most interesting quote regarded China's perception of "interests":
"China is doing the thing that best suits China's interests and everyone's interest," Shen said. "China is not pushing the envelope either on the North Korean side to be aggressive or on the South Korean to punish North Korea with warfare."
************************************************************************
In the last two decades, as North Korea has grown increasingly bellicose toward her neighbor to the south, and toward the United States, she has done so while protected under the wing of a China grown strong enough militarily and economically to assert herself as the premier power in the region.
Under China's benevolent protection, Kim Jong Il and his father before him, have done the following:
Developed a nuclear capability
Tested several weapons in 2006 and 2009
Advanced ICBM ranges and capabilities
Defied international pressure to desist in those nuclear programs
Executed several SOF border incursions into South Korea
Supplied arms to Hezbollah and Hamas through their Iranian proxy
Shipped (and attempted to ship) likely nuclear and other WMD components to the Middle East
Engaged, almost certainly with China's technical assistance, in a cyber attack against the United States and South Korea
Is likely involved heavily in counterfeit and narcotics trades
Torpedoed and sank a ROK warship in international waters
What has China's response been to this long and growing list of bellicose and defiant actions?
Peking has deliberately and unabashedly thwarted each and every opportunity to contain North Korea. The Chinese refused outright to live by UNSC Resolutions 1718 and 1874. China continues her arms sales to Pyongyang, and her large economic (read: financial) aid to Kim's government.
Today, however, they tell us that they cannot condemn North Korea for an act of war because it will "stoke a cycle of escalation", and that both sides should show "restraint". And that China will act in China's, as well as everyone else's interests, in the region, as if those were at all compatible.
We must finally recognize China's true character. I will say it again here. Talk of China's desires to be a part of the "International Community", or a reliable member of the Global Maritime Partnership reflects our own inability to perceive China for the complex rival she is; sometimes partner, sometimes economic rival, sometimes military adversary.
Platitudes about Peking wanting to be partners in maintaining stability in Asia are so much diplomatic flattery. As of this moment and in this region, China is unquestionably an adversary. Providing cover and protection for a sworn and aggressive enemy with nascent nuclear capability and little by way of restraint. North Korea is what it is, and does what it does, because China gives it a free hand to do so. If we are going to deal meaningfully with North Korea in defense of our ally in the South, we must acknowledge that fact.
That doesn't bode well for a National Security Strategy still wet on the page which is said to de-emphasize military power.
*******************************************************************
UPDATE*
People's Republic of China called for "restraint". Here is the North Korean Version.

Posted by
UltimaRatioReg
in
Air Force
,
Army
,
Aviation
,
Coast Guard
,
Foreign Policy
,
Marine Corps
,
Maritime Security
,
Navy
,
Soft Power