Archive for May, 2010
His nickname was Jackie Fe. I immediately thought of the chemical symbol for iron. Isn't it FE? Indeed it is. Despite Captain Fellowes's penchant for off-color humor and his flirtatious personality, his DNA was pure strength. He was a big, strapping man — looked like a football player to me. Along with his fellow prisoners, Fellowes endured unimaginable physical and emotional tests in North Vietnam. But he survived and returned home to his family and his career. When he retired, he wasn't entirely sure what he would do with the rest of his life. But his wife made it clear that it wasn't going to happen at home. "She asked me, 'What are you doing at home?' I said, 'I live here.' She said, 'Not during the day.'" What struck me about Jack Fellowes was his self-deprecating, dry humor — a trait that can mask depression or a lack of self esteem. But not with him. He truly loved to watch people laugh and he loved nothing more than sharing a good joke and seeing his audience's reaction (I think he missed his calling as a stand-up comedian). His sense of humor probably aided his survival in captivity. Many of the POWs said that a positive outlook and maintaining hope in the midst of tremendous adversity made the difference between life and death.
But he also had a serious side to him — one that kept him focused during his POW experience and one that helped him rebuild his relationships with his family when he returned home. It wasn't easy. He left a wife and four children at home. After 6 1/2 years away, he had to reestablish himself as a husband and a father, when his family's household had functioned for years without him. He had to be patient, kind, gentle and tolerant — especially with his sons. When he returned home, they were almost all in their teenage years — tough enough for a dad who has been around to parent. They eventually warmed up to him again, but it wasn't easy. (Many of the POWs' kids tell similar readjustment stories.) I always thought it was a tremendous testament to the total manhood of this group of men: they fought, they suffered in silence in North Vietnam, they honorably returned home and quietly rebuilt their lives — as servicemen, as husbands, as fathers, as sons, and as civic neighbors. They didn't wallow in victimhood or demand special treatment. They continued to serve. Rest in peace, Jackie Fe. I'll miss you…and your jokes.
Captain Jack Fellowes, USN (Ret.) passed away this week in Annapolis, MD. The Naval Institute had an opportunity to hear Fellowes describe his experience as a POW as a part of our Americans at War Series.
Fellowes also did his Oral History in 1975. Fellowes, pilot in squadron VA-65, was shot down in August 1966 while flying an A-6A Intruder on a bombing mission from the aircraft carrier Constellation (CVA-64). His target was Vinh in the panhandle area of North Vietnam. Fellowes's back was broken by the time he was captured on the ground by militiamen. His bombardier-navigator, George Coker, was also captured. The oral history describes Fellowes's six-and-one-half-year ordeal in North Vietnamese hands, recounting incidents concerning many of his fellow prisoners. He particularly cited the leadership qualities of POWs James Stockdale, Jeremiah Denton, and Robinson Risner.
Included is discussion of such issues as the quality of military survival training and the importance of moral development; interrogation and torture; minimum medical treatment; meager food rations; usefulness of cigarettes; physical fitness exercise; camp policies; deaths of other prisoners; communication procedures; entertainment the POWs devised for each other;
visits to North Vietnam by war protesters such as Jane Fonda; being paraded in public in Hanoi; the futile Son Tay raid of 1970; B-52 raids on Hanoi; concerns about his family members back home and limited correspondence with them. Fellowes was released from captivity in early 1973. The oral history tells of his return, a description supplemented by his article "Operation Homecoming," which appeared in the December 1976 issue of Proceedings.
Aloft in solitudes of space,
Uphold them with Thy saving grace.
Thou Who supports with tender might
The balanced birds in all their flight.
Lord, if the tempered winds be near,
That, having Thee, they know no fear.
— Mary C. D. Hamilton (1915)
God Bless this hero and his family.
Update: From the Annapolis Capital
Our Secretary of State announced today:
"Beginning today, the United States will make public the number of nuclear weapons in our stockpile and the number of weapons we have dismantled since 1991… So for those who doubt that the United States will do its part on disarmament, this is our record, these are our commitments and they send a clear unmistakable signal."
There is considered opinion that our public proclamations of US Nuclear policy in order to clear up "ambiguity" has already jeopardized our second strike capabilities, and the "new" START initiatives have loopholes the Russians can drive a Topol launcher through.
We are making a strategic blunder of monumental proportions to think that "transparency" and "good faith" in revealing US nuclear secrets is going to make the US safer or the world more stable. Strategic deterrence has worked for six decades and then some. To trade it all in for a pipe dream of cooperation from nations themselves intent on possessing a nuclear deterrent (read: Pakistan, India) or an offensive capability of obvious bad intentions (Iran, North Korea) is a foolhardy and short-sighted act which will guarantee a lessening of US strategic capabilities. Not what we need in a multi-polar world with nuclear weapons in the hands of those whose ideology mandates our destruction. Not quite the "unmistakable signal" we intended.
There are wolves, sheep, and sheepdogs. When the sheepdogs act like the sheep, the wolves are bound to win.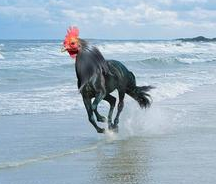 "Der Krieg ist eine bloße Fortsetzung der Politik mit anderen Mitteln"
– Carl von Clausewitz
In a Representative Republic like our own where civilians are the primary point of leadership, there is a more localized and micro corollary to Carl's 'ole phrase; "National Security policy derives from the priorities of the politicians you elect."
Six months prior to the NOV 2010 election, what are the national security issues that will make a difference?
After Senator Brown (R-MA) was elected, this little jewel was delivered by Andrew McCarthy at National Review;
It was health care that nationalized the special election for what we now know is the people's Senate seat. But it was national security that put real distance between Scott Brown and Martha Coakley. "People talk about the potency of the health-care issue," Brown's top strategist, Eric Fehrnstrom, told National Review's Robert Costa, "but from our own internal polling, the more potent issue here in Massachusetts was terrorism and the treatment of enemy combatants."
Join my co-host, fellow USNI blogg'r EagleOne and me as we look at the NOV 2010 elections.
Not 5pm today – but 8pm tonight; an early evening Midrats – click here to listen.
Our guests will be Mackenzie Eaglen, Research Fellow for National Security at The Heritage Foundation, and James S. Robbins is Senior Editorial Writer for Foreign Affairs at the Washington Times, author of the book, "Last in Their Class: Custer, Pickett and the Goats of West Point
," and a political commentator and contributing editor for National Review Online.
If you miss the show tonight and/or want to catch up on the shows you missed – you can always reach the archives at blogtalkradio – or set yourself to get the podcast on iTunes.
See you tonight!
Newer Entries »