This piece from Reuters this morning: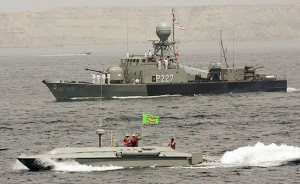 TEHRAN – Iran's elite Revolutionary Guards are ready to provide a military escort to cargo ships trying to break Israel's blockade of Gaza, a representative of Supreme Leader Ayatollah Ali Khamenei said on Sunday."Iran's Revolutionary Guards naval forces are fully prepared to escort the peace and freedom convoys to Gaza with all their powers and capabilities," Ali Shirazi, Khamenei's representative inside the Revolutionary Guards, was quoted as saying by the semi-official Mehr news agency.

Any intervention by the Iranian military would be considered highly provocative by Israel which accuses Iran of supplying weapons to Hamas, the Islamist movement which rules Gaza.
Should Teheran be foolhardy enough to follow through on this threat, it would seem to be for little purpose other than provoking Israel into a hostile exchange at sea. Assisting in the breaking of a blockade would widely be considered an act of war, a fact that Iran is likely aware of.
Does the Iranian regime sense an opportunity with what seems the turning of opinion in Washington and internationally away from Israel following the ill-starred boarding of a "humanitarian aid" vessel last week?
Is Ahmedinejad looking to cement his role as the Middle East's most aggressive (and influential) anti-Zionist?
What will other nations in the region do? Will they be forced to back Iran's play or face ostracism from their Muslim neighbors?
What is the United States prepared and/or willing to do to prevent such an exchange, or in the event, act decisively without undue escalation?

Posted by
UltimaRatioReg
in
Aviation
,
Coast Guard
,
Foreign Policy
,
Homeland Security
,
Marine Corps
,
Maritime Security
,
Navy
,
Tactics