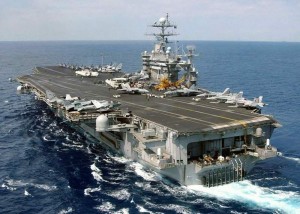 Seems the Israelis are reporting something a bit out of the ordinary. Whether this is what they speculate it to be is too early to tell. But it bears watching.
Egypt allowed at least one Israeli and 11 American warships to pass through the Suez Canal as an Iranian flotilla approaches Gaza. Egypt closed the canal to protect the ships with thousands of soldiers, according to the British-based Arabic language newspaper Al Quds al-Arabi.

One day prior to the report on Saturday, Voice of Israel government radio reported that the Egyptian government denied an Israeli request not to allow the Iranian flotilla to use the Suez Canal to reach Gaza, in violation of the Israeli sea embargo on the Hamas-controlled area.International agreements require Egypt to keep the Suez open even for warships, but the armada, led by the USS Truman with 5,000 sailors and marines, was the largest in years. Egypt closed the canal to fishing and other boats as the armada moved through the strategic passageway that connects the Red and Mediterranean Seas.

Despite Egypt's reported refusal to block the canal to Iranian boats, the clearance for the American-Israeli fleet may be a warning to Iran it may face military opposition if the Iranian Red Crescent ship continues on course to Gaza.
You gotta admit, CVNs can be damned handy doo-dads to have around when you need 'em.

Posted by
UltimaRatioReg
in
Foreign Policy
,
Marine Corps
,
Maritime Security
,
Navy