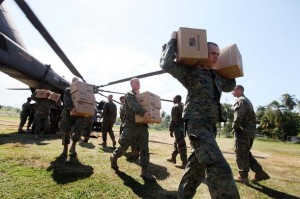 In the last week there has been a fair bit online like Chris's post below about what is being done with the Navy-USMC team now, and elsewhere about what is coming to help with the humanitarian effort in Pakistan. Soft power is a popular topic.
The Department of Defense announced Aug. 13 the deployment of the Kearsarge Amphibious Ready Group (KSG ARG) and 26th Marine Expeditionary Unit (26th MEU).

The combined Navy and Marine Corps team will leave later this month to bring significant heavy- and medium-lift aircraft and other assets to support flood relief efforts in Pakistan. The Kearsarge ARG/26th MEU's capabilities will allow sailors and Marines to provide food, water, transportation, and other support, in partnership with the Pakistani military, to those in need.

The group is expected to arrive in the Arabian Sea in late September.
It will be at least six weeks, at the earliest, until initial effects are seen on the ground, so let's speak to each other as adults.
This effort has everything to do about INFO OPS and STRATCOM, and little about a meaningful contribution to saving lives. That is fine – the argument can be made that this may save lives down the road through impact on the human terrain; but that is an argument, not a fact.
Some people will be helped – but within a standard deviation of the lives that the medical facilities, food, and supplies brought with the ARG could save if it helped on any standard day in Pakistan. Those who have been to AfPac know that even on a good day there is a humanitarian problem that needs what the USN-USMC can bring over the horizon.
Also remember that Pakistan is an incredibly poor country of ~175 million souls. For the rest of the life of our republic, every ARG/MEU deployment could go to the coast of Pakistan, and every day you could read, "... civilians from the town of XXXX are gathered inside a U.S. Army Chinook helicopter which has come to deliver humanitarian assistance and pick up victims …"
A nation could go broke and a military worn out attempting to fix what cannot be fixed in any sustainable way by an ARG/MEU.
That stated, the ability to conduct humanitarian assistance has a long and honorable history in the US military and has its place. Taking six-weeks to help people suffering from water-born disease and lack of medical care is a long time to "help" save lives. Most who are in danger of dying now will be dead by the time the ARG/MEU gets there. On the extreme margins, we can help a few – but is that "our" job to save every soul in danger across the world? A Pakistani whose village is much better off than the homeless refugees of Darfur who are walking among the uncounted dead. Where, and at what cost-point, do you say, "enough." When do the actions of a Republic start to look like the duties of an Empire?
If we are to do this, then we should do it better. More pre-positioned capabilities would be nice – so would strategic lift capable LTA assets (don't laugh at Lighter-Than-Air when it comes to moving more tonnage than a C-17, faster than a ship, deliverable almost anywhere in a permissive environment). We don't have that asset because like Command Ships, they aren't sexy and therefor don't get funded – so we have what we have.
There is a more fundamental question though. Do we want to be able to do this within means and capabilities – which is what we are doing now – or as a primary mission area? If you want to make it a PMA, then you will need to fund it. Cost it out and tell me what you will trade to be able to do this …. and then make the argument of the actual good you will derive from it.
Remember, at best – this helps the INFO OPS/Strategic Messaging efforts. We are talking about Pakistan. The delta in lives saved vs. the control sample is not that great. Just know that you are not doing "good" here – you are at best trying to buy good will – but really, how much good will?
The counter argument – and one made coldly – has two parts:
– This is like watering the desert. You can pour gallons on water on the desert – but if you don't continue to do it on a regular basis, you soon end up where you started. No green shoots; just sand and lost money.
– How much good will did our efforts in Somalia in the early '90s or the Pakistani earthquake half a decade ago accrue? How is that working for us?
It is not a mature intellectual exercise to do things with blood and treasure just to make ourselves feel good. Theory is just that – theory – without metrics to back it up. Given the spotty track record of these things in the last couple of decades – and in a period where we must learn to be careful with our funding – besides nice photo-ops and feeling good about ourselves, what are we getting for our effort?

Posted by
CDRSalamander
in
Marine Corps
,
Navy
,
Soft Power
Tags:
humanitarian response
,
Pakistan
,
Soft Power