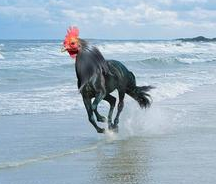 Last Sunday, fellow USNIBlogg'r EagleOne and I had a little something for everyone on Midrats. If you missed it, head on over and download the archive and give it a listen.
Our guest for the first half of the hour was Douglas A. Macgregor Col. USA, (Ret), the author of USNI Press's Warrior's Rage: The Great Tank Battle of 73 Easting, and Transformation Under Fire: Revolutionizing How America Fights. We covered DESERT STORM, OIF, the influence of Counter Insurgency on today's Army, and how the US Military may want to restructure in the future.
For the second half of the hour, we pivot and update a subject we last covered in Episode 7 this February. Our guest was retired Navy Reserve Commander Zoe Dunning, Board Co-Chair of the Servicemembers Legal Defense Network. We discuss the whole spectrum of the challenges of repealing Don't Ask Don't Tell, how the lobbying effort has evolved, and what hiccups there may be in a post DADT military.
Don't forget – if you want to make sure and never miss a Midrats – subscribe to the podcast on iTunes.

Posted by
CDRSalamander
in
Army
,
Podcasts
Tags:
Don't Ask Don't Tell
,
Iraq
,
Maritime Strategy
,
Midrats
,
Strategy