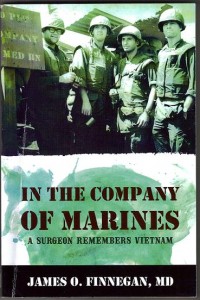 Four doctors and 26 corpsmen treated 2,500 injured men – many severely – over a three-month period in a medical facility that was under constant barrage from enemy rounds in a remote province of South Vietnam just south of the DMZ. The year was 1968 and the bloody siege of Khe Sanh was raging all around them. They took the casualties as they came – in a steady stream of "M*A*S*H"-like helicopter deliveries, patched the wounded up as best they could and shipped them to the flank – when the battle waned – or back to the front. In most cases, they never learned the names of their patients. There were too many and time was not on their side. 
It is hard to imagine providing critical medical care under these circumstances, but they did. It seems that adrenaline is what kept them going. When asked how they kept up the pace and sustained the sheer volume of cases and dealt with the emotional aftermath, they didn't really have a solid answer – other than they had a job to do and they really had no choice but to keep going.
One of the surgeons, Dr. Jim Finnegan, wrote a book about it. In The Company Of Marines: A Surgeon Remembers Vietnam chronicles his 12-month tour in Vietnam that happened to coincide with some of the fiercest fighting of the entire war: the Tet Offensive and the ensuing battle at Khe Sanh. He and three other Navy surgeons and 26 Navy Hospital Corpsmen were assembled at the base erected to defend this northernmost province. 
His book quotes Marine intelligence sources that state that more than 3,000 rounds per day were lobbed against the Marines, accounting for the majority of the injuries. They were overwhelming. One of the doctors, Dr. Ed Feldman, volunteered to remove a live round from the abdomen of an injured Marine. He received the Silver Star for his heroic efforts – both the Marine and everyone else on the base survived. The live round was detonated soon after it was removed from the Marine's body.
In The Company Of Marines is a very personal tale of one doctor's experience in Vietnam over the course of 12 months during that decade-long war. According to him, his Vietnam was not that remarkable. Hard to believe that so many men like him were subjected to such extraordinary circumstances, survived and returned to highly productive lives. But history has shown that men rise to the challenges of combat time and time again…and return home scathed, but sane. Khe Sanh was clearly a seminal experience in the lives of these Navy surgeons and one that bonded them indelibly. In some ways, it has defined them as men. But, they say they refuse to let it define the rest of their lives – a significant distinction. To hear it in their own words, watch a video of a recent interview with Drs. Jim Finnegan and Ed Feldman.  

Posted by
The Bunny
in
Books
,
History
,
Marine Corps
,
Navy