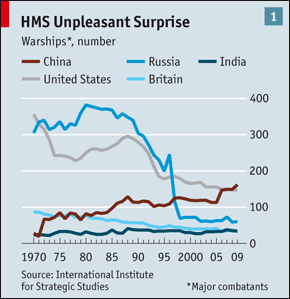 The 30 AUG edition of The Economist has an outstanding article that demands your attention, "Defence spending in a time of austerity."
It is a wide-ranging article, but it is the graph on the right and another couple of points that grabbed my attention.
What I like about the graph on the right is that it focuses on just major combatants. Yes, numbers are not everything – but when you consider the concentration vs. dilution of power when it comes to the waters off China, the numbers look even more interesting. When you fold in they tyranny of distance – you add a bit more flavor. Yes, there is a quality vs. quantity argument as well – but the historian understands the Tiger vs. Sherman argument. Follow the trends to 2030 and ponder some more.
Speaking of China, from the article;
Is the constraint on military spending evidence of a general decline of the West? Critics of Mr Gates argue that he is hollowing out the armed forces and accepting a diminished position for America in the world. In a seminal book of 1987, "The Rise and Fall of the Great Powers", Paul Kennedy of Yale University popularised the notion that a country's military power flows from its economic strength; the global pecking order is determined as much by economic performance in peacetime as by martial abilities in wartime. By this measure, China's economic strength should give the West cause for concern. China is also fast building up its naval power …
Our debt growth is unsustainable and a decrease in our defense budgets will be an unavoidable result of our fiscal irresponsibility. Where is China in this?
Well, when you consider our trade deficit and national debt – don't blame the dragon for getting fat when we sell our children to feed it.
China is now the largest holder of U.S. debt. It's also the largest exporter and within the next five to seven years, it's expected to surpass the U.S. as the largest manufacturer in the world.
How much interest are we already paying on our debt?
The national debt is the single biggest threat to national security, according to Adm. Mike Mullen, chairman of the Joint Chiefs of Staff. Tax payers will be paying around $600 billion in interest on the national debt by 2012, the chairman told students and local leaders in Detroit.

"That's one year's worth of defense budget," he said,
America, you should keep your eye on the Chinese Fleet. No so much that it may be a threat down the road – but just for the reason that you're paying for much of it.
So, solutions? The macro issues of run-away deficit spending and trade imbalances are beyond the ability of the Navy to do anything about. What can the Navy do about this challenge of a shrinking American Fleet? For starters – go after per-unit costs – something we have been horrible at. We need to fix it though, as shipbuilding budgets are not going to grow in real dollars – indeed, expect a decrease. The cause of our per-unit cost problem is well understood; cue the LCS video.
Few would disagree with another of Mr Augustine's laws, that "the last 10% of performance generates one-third of the cost and two-thirds of the problems." Moreover, the quest for the best is often allied to a "conspiracy of optimism", whereby bureaucrats and contractors underestimate the likely cost of weapons, wittingly or unwittingly. Once approved, military projects are hard to kill.

Such are the ingredients for a spiral of cost and delay: technological stumbles hold up development; delay raises costs; governments postpone work further to avoid busting yearly budgets, incurring greater long-term costs. With time, technology becomes outdated, so weapons must be redesigned, giving the top brass a chance to tinker endlessly with requirements. In the end, governments cut the size of the purchase, so driving up unit costs further.
We could do with a little more good and a little less perfect.
Hope is not a plan, but hope that our elected representatives get our financial house in order – for without it a military cannot be effective. After hope – then act develop a culture of accountability and not obsequiousness.
We did not get here by accident. Real people made real decisions that put us here.

Posted by
CDRSalamander
in
Maritime Security
,
Navy
Tags:
Budget Wars
,
China
,
Shipbuilding