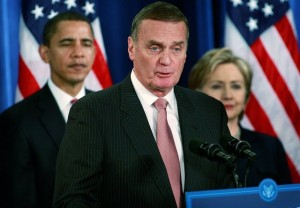 This from The Associated Press a few minutes ago:
Gen. James Jones will resign as President Barack Obama's national security adviser and will be replaced by Deputy National Security Adviser Tom Donilon, NBC News confirmed Friday.

The departure is not unexpected. Officials who spoke to the Associated Press on the condition of anonymity said that Jones, whose resignation will be effective in two weeks, had planned from the start of his tenure to leave the position at about the two-year mark.

Obama is expected to make a formal announcement in the Rose Garden at 1 p.m. EDT.

Donilon, who said he was not interested in the position of chief of staff to the president, was widely believed to have his sights set on the post as National Security Adviser. Jones is also known to have recommended that General James Cartwright, the Vice Chair of the Joint Chiefs of Staff, be offered the job.

Jones was appointed to the top security position in January 2009. He previously served as Commandant of the Marine Corps from 1999-2003, the Commander of US and NATO forces in Europe, and as the State Department's Special Envoy for Middle East Regional Security.
Though the article states that General Jones had planned to leave the post at the two-year mark, recent revelations of the internal discord between Jones and Administration officials and staffers make this move perhaps more significant than it would otherwise be. President Obama will see the departure of his Defense Secretary and his National Security Advisor perhaps within 90 days of each other. Marine General Cartwright would be an interesting choice, but may get along no better with Administration officials than did Jones.
But General Cartwright does indeed seem to encourage the unvarnished exchange of ideas, including using this-here blogging medium.
We shall see how this works out. And whether General Cartwright or any other choice will offer the President substantially different advice from what he has gotten up to now from his National Security Team. With the US engaged in two wars, a potential shoving match with China, the specter of a nuclear Iran and North Korea, and the always looming threat of terrorism on US soil, the President and the nation he is entrusted to lead needs it to work out well.
************************************************************
Without the words "acting" or "interim", it is Tom Donilon as the new National Security Advisor. The dynamic between Defense Secretary Gates and Donilon, and between the Armed Services and Donilon, will bear watching.

Posted by
UltimaRatioReg
in
Air Force
,
Army
,
Coast Guard
,
Foreign Policy
,
Homeland Security
,
Marine Corps
,
Maritime Security
,
Navy
,
Piracy
,
Soft Power