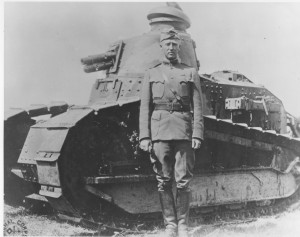 General Patton, the Army's Halsey, was one of the most energetic and colorful officers in WWII. From rescuing the 101st Airborne Division at the Battle of the Bulge to turning around the U.S. campaign in North Africa, Patton succeeded as a combat leader. Patton's success as a military officer and leader laid in his enthusiasm. Patton wanted to lead men into combat and devoted every ounce of energy to better his ability to do so.
Where does one get enthusiasm? Patton certainly developed his at an early age. As a boy, Patton learned cavalry tactics from none other than Colonel John Mosby, CSA. Col. Mosby, a Confederate cavalry officer, established his own unit, "Mosby's Rangers," and waged guerrilla warfare against Federal troops in western Virginia. Mosby re-enacted his battles on horseback with the young Patton, teaching Patton the value of a quick, aggressive attack against your enemy. This interaction inspired Patton to eventually lead his own cavalry units in combat. And Patton would, just with mechanized cavalry. In North Africa, Patton adapted Mosby's tactics to tank warfare against the infamous "Desert Fox."
Of course, we don't all have the opportunity to learn from famous Civil War officers. Most enthusiasm stems from wanting to do a job well, not necessarily from job satisfaction (though that helps). You may hate your actual job, but you can still stay enthusiastic if you want to do that miserable job well. Patton believed his destiny was to lead men into battle, but during the inter-war years, he didn't get that opportunity. Even so, his enthusiasm for the military caused him to stay enthusiastic during this "off" period and prepare himself for possible future battles. He published innovative ways to employ the Army's new armored units, studied heroism citations to figure out how to instill heroism, and lobbied Congress for more funding for armored units. Again, this research was not Patton's real passion; he wanted to employ his tank tactics, write heroism citations for his own men, and maneuver his army in the tanks Congress appropriated. But the knowledge Patton acquired during this time certainly paid great dividends during the WWII.