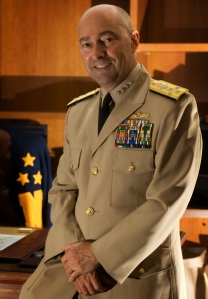 ADM James Stavridis has blogged most of the contents of the speech he gave at the US Naval Institute awards ceremony last Wednesday night. As I mentioned last week, I was in attendance of this event sitting right in the middle of the room with one of the very few Navy Junior officers in attendance. Read the Admiral's blog post in full, then come back.
I am only 34 years old, and I was easily one of the youngest people in the room. I note this because I also noted there were only a handful of other younger folks in attendance for honors night. There were exactly two naval officers under the rank of Captain in the room who didn't have "aide de camp" identification on their uniform (LCDR BJ Armstrong and LCDR Claude Berube – both of whom were part of the USNI History Conference earlier that day). The other younger people in the room consisted of one Marine Corporal who was attending out of uniform, my fellow USNI blogger midshipmen John (Jack) James, CDR Salamander, and the Admirals daughter.
That's it. Everyone else in attendance was older and in some way had almost certainly been part of the Naval Institute family for years, if not decades.
Read the speech by Admiral Stavridis again and ask why in that room of dignitaries that included some of the most accomplished Navy writers over the last few decades; a 4-star Admiral gives a speech that in my mind specifically targets the smallest audience in the room – younger folks – and encourages them to write.
Only the Admiral knows why he chose to make that speech in that room, but I believe observers can safely draw two conclusions. First, Admiral Stavridis has a deep, personal passion for writing, and second – I believe the audience was bigger than that room.
As I encounter junior officers in the maritime services who want to write, but haven't quite figured out how to start, I'd point out something ADM Stavridis mentioned in his blog post a great starting place.
Write about what you actually know something about.
That may sound like simple advice, but it is important. When I run into junior officers who express the desire to write, but haven't quite figured out how to get started – I usually probe the officer with a few questions on the subject they want to write about. One thing I typically find among young Navy officers who want to write about their profession is that they have a really solid historical background on their profession. In my opinion as a reader, history is always a great place to start with writing.
Just ask ADM John Harvey Jr., who on Monday posted about the Battle of Leyte Gulf on the 60th anniversary of the largest naval battle in history. I have read both Last Stand of The Tin Can Sailors and Sea of Thunder: Four Commanders and the Last Great Naval Campaign 1941-1945, but that didn't make ADM Harvey's version any less interesting – indeed the way he personalized the historical event into the context of today is precisely what made his comments interesting.
As I noted the other day on my blog, the winner of the Proceedings writer this year who was honored last Wednesday night was Captain Vic Addison, who in addition to his 4 Proceedings articles this year also wrote two articles on my blog over the last year.
If you consider publishing in a magazine a step too far for a first shot at writing and would like an opportunity to publish on a blog – even if it is just for practice – let me know and I will help facilitate your effort as best I can. I do understand there are conditions younger officers encounter where your chain of command only prefers you to publish to certain accredited organizations – and in that case I already have permission to publish articles here on the USNI blog if Information Dissemination isn't suitable to your requirements.
The messages both direct and by example that both ADM Stavridis and ADM Harvey are sending is critical. We are in the early stages of a global, social information sharing age where power exists in ideas, and the benefits of shared ideas can and often do extend beyond the periphery of our intended audiences. The message of the maritime services is ideally advocated and evangelized by those inside the bubble who put pen to paper, and at no time in history has their been a better opportunity to join the conversation than right now with the emerging social mediums.
At a time when we are seeing generational turnover within the officer ranks of the maritime services, there is also no better time to evangelize the ideas of the maritime services in the pages of Proceedings and Naval History magazine. As Admiral Stavridis points out, "if you write a page or a paragraph here and there—while on an airplane or in a car ride—eventually you'll have a good piece. Do that in an organized way over a year, and you'll have a book. What seems like a big commitment in time is so often just a series of small steps."

Posted by
galrahn
in
Naval Institute
,
Navy