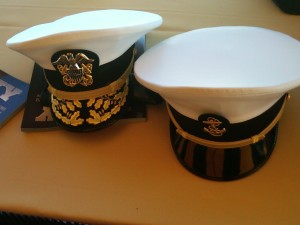 Walking into the banquet room at the Annapolis Marriot Hotel, I realized I was the only person below 0-3. Slightly outranked, I mingled my way to the cheese and crackers. With the Superintendent of the U.S. Naval Academy, the SACEUR, the Commandant of the Coast Guard, and a host of flag and general officers present, I didn't exactly want to draw too much attention to myself. Where was I? The Naval Institute's Honors Dinner, which I was fortunate enough to attend. But, I must admit, I didn't know what to expect.
After devouring some of the delicious food, I began talking with the other guests about life at the Academy and general naval issues. I met dozens of successful active and retired officers- all dedicated to our country and our Navy. During the dinner, I sat next to "he who must not be named," a former naval aviator.
During the dinner, ADM Stavridis, SACEUR, delivered the keynote address. I had the chance to interview ADM Stavridis a month ago and very much looked forward to meeting him. He gave me his coin, an autographed copy of his book Destroyer Captain (a very interesting read), and a shout-out in his speech. We midshipmen rarely interact with any flag officer, much less the SACEUR, so I feel extremely lucky to have had the opportunity to both interview and meet him.
After the event, I fully comprehended the importance of the Institute's work. Any organization entrusted with the responsibility of defending a nation should have an independent think-tank to stimulate ideas and encourage innovation. The Institute receiving too many articles to print highlights an important and positive fact. For naval officers, the possibility of publishing their own articles encourages them to reflect on ways to better our Navy. Even if their articles never make it into Proceedings, they still benefit by writing about original solutions to complex problems.

Posted by
jjames
in
History
,
Marine Corps
,
Naval Institute
,
Navy