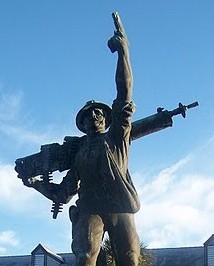 The United States had not yet entered the Great War on this 135th Birthday of the United States Marine Corps. Commandant John A. Lejeune would not publish his call for the celebration of the birthday of our Corps for another eleven years. Nobody outside of the intimate brotherhood of Marines knew who John Lejeune was in 1910. Nor did they know Smedley Butler, or Wendell Neville, nor Thomas Holcomb. John W. Thomason, Marine Officer and author of the seminal "Fix Bayonets", was still in high school in Texas. Most of the Marine heroes of the Second World War were small children or not yet born on 10 November 1910.
So, why am I posting about that day, the 135th anniversary of the founding of the Marine Corps?
Because 10 November 1910 was the day on which convened the Ordnance Officers' Board to begin testing of two designs for a new pistol. The entries were the Savage Arms .45 caliber Model H, and the Colt .45 Special Army Model of 1910, a design of the legendary firearms genius John M. Browning. The tests were grueling 6,000 round affairs, fired in strings of 100 rounds. In the end, the Colt weapon proved more easily field stripped, more accurate, and more reliable, with 12 malfunctions requiring replacement of 4 components, while the Savage had 43 malfunctions requiring replacement of 13 components.
The tests would be repeated in March of 1911, with each firm able to make repairs and improvements to the respective designs.
In the subsequent tests, the Colt weapon functioned flawlessly, with no malfunctions in 6,000 rounds fired, and no parts requiring replacement. The Savage entry suffered 37 malfunctions, and needed eleven components replaced.
The Colt entry was accepted after the decisive second trial, adopted officially on 28 March 1911, as the Colt Caliber .45 Automatic Pistol, Model of 1911. The designation "Model of 1911" was changed to "M1911" in 1940.
The iconic 1911 in .45 ACP was the sidearm of the United States Armed Forces until 1985 officially, with many units only parting (and grudgingly) with their .45 autos in the 1990s. In fact, the 1911 is still in service worldwide, and with modifications, remains in the USMC MEU(SOC), FBI, and SWAT arsenals. They were in Iraq, and are in Afghanistan, going strong and putting the model's replacement, the Beretta P92, to shame.
But for all of our military hardware to outlast its designers, prove its rugged durability, and serve well for ten decades.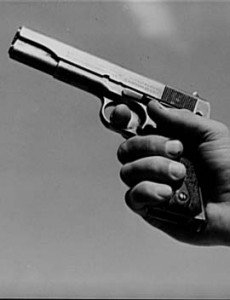 So, it was one hundred years ago, 10 November 1910, when the Colt .45 Automatic first proved itself legendary. It is, quite simply, the greatest handgun ever made. Its simplicity, reliability, and hitting power have come to make the 1911 synonymous with the word "pistol".

Posted by
UltimaRatioReg
in
Air Force
,
Army
,
Coast Guard
,
History
,
Marine Corps
,
Navy