We will still need men and women in uniform to call things as they see them and tell their subordinates and their superiors alike what they need to hear, not what they want to hear . . . More broadly, if as an officer you don't tell blunt truths or create an environment where candor is encouraged, then you've done yourself and the institution a disservice.

The time will come when you must stand alone in making a difficult, unpopular decision, or when you must challenge the opinion of superiors or tell them that you can't get the job done with the time and the resources available . . . There will be moments when your entire career is at risk.

Sprinting Through the Tape, by Major General Thomas L. Wilkerson, U.S. Marine Corps (Retired), Proceedings Magazine – July 2008 Vol. 134/7/1,265
There are several important activities and topics to discuss regarding the US Navy today, but the most important issue in the US Navy right now is represented in the outcome of last week's court-martial of Lt. Cmdr. Sean Kearns, former executive officer of the troubled USS San Antonio (LPD 17). Kate Wiltrout has a series of articles regarding the court-martial in the Virginia Pilot – and both are required reading.
The first article came out Sunday with the verdict of not guilty by military jury for his case which involved the death of Petty Officer 1st Class Theophilus Ansong during small-boat operations on Feb. 4, 2009 in the Gulf of Aden. The accident involved 3 crew members in an inflatable boat that flipped while being lowered into the sea. Lt. Cmdr. Sean Kearns, the executive officer of USS San Antonio at the time, was charged with negligence for failing to properly train and supervise small-boat operations. According to the article Lt. Cmdr. Kearns "chose to take the case to court-martial rather than accept a potentially career-ending reprimand like the one given to Cmdr. Eric Cash, the ship's captain."
"The true victors here are the sailors who served on, and continue to serve on, LPD-17-class ships," he said, adding that they face struggles with the new design and are not getting the resources they need from the Navy.

When asked why he refused administrative punishment, Kearns said: "Things needed to be made known…. Someone needed to stand up."

He stressed that the problems with the ship don't stem from those who are serving aboard it. "That crew has never failed to come through," he said.
The prosecution and defense had two very different views regarding the cause of the accident. For the prosecution, the argument ultimately became that regardless of all circumstances, officers are responsible for the crew under their command. The defense argument was that circumstances do matter, and that at some point a team Navy effort must extend beyond the confines of a single ship. The article lays out all of the details of the case, but what is important here is that we find a naval officer with the moral courage to speak out regarding problems in a court-martial and be held accountable by military jury. Ultimately, Lt. Cmdr. Kearns was not found responsible for the sailors death.
During the trial, prosecutors did not address the major material problems that have plagued the USS San Antonio. As I observed the trial through the media, that point stuck out to me as a very important omission by the prosecution, and as I thought about it I remembered something I read earlier this year.
Expecting a ship to meet every mission requirement while providing only 70% of the resources necessary is not setting the conditions for success. The CO is placed in an untenable situation; we set the ship and her crew up for future failure. Ultimately, it is my responsibility, working through the chain-of-command, to balance the resources I provide to our ships, squadrons and submarines with the missions I expect those units to be able to perform.

But…our COs also have an obligation to seek the truth and act on it – to honestly assess their ship, take appropriate action, and forward their findings and recommendations up the chain-of-command for the betterment of the force. This feedback is absolutely critical. Decision-making and directing action (command) only achieves the desired outcome if there is a properly functioning feedback loop (control). We have occasionally disassociated command from control with often devastating effects that are difficult to recover from, even over a long period of time.

So we have to ensure we establish an honest flow of communication through the chain-of-command; indeed, it is critical we do this. It is not about whining up or down the chain-of-command – that is, simply complaining about problems without offering any solutions; it is about effective leadership in a culture where we work together to continually improve our ships, our squadrons, and our submarines.

ADM J.C. Harvey, Jr USN posted March 31, 2010 on the US Fleet Forces Command Blog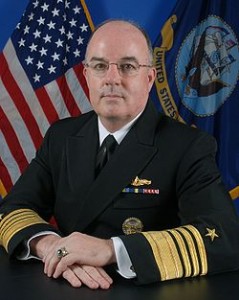 Kate Wiltrout explains with her second article this morning that Adm. John C. Harvey was left little choice in regards to his decision to court-martial Lt. Cmdr. Kearns.
Adm. John C. Harvey said he did not take lightly the decision to court-martial Kearns.

Harvey inherited the situation after taking charge of Fleet Forces Command, which is responsible for training, equipping and maintaining naval forces and supplying them to military commanders. Two investigations into what happened Feb. 4, 2009, the day Petty Officer 1st Class Theophilus Ansong died, had been completed, but no actions had been taken.

Harvey said he felt he owed it to Ansong's family, and the crew of the San Antonio, to deal with the lingering issue.
I think ADM Harvey's action was absolutely right. ADM Harvey had to court-martial Lt. Cmdr. Kearns in response to the death of Petty Officer 1st Class Theophilus Ansong, as the story goes on to explain.
In May, he issued a letter of reprimand to Cmdr. Eric Cash, the ship's commanding officer. He had fewer options with Kearns, who had transferred to a shore job. Once Kearns left the ship, he had the right to refuse administrative punishment, which he did. That left Harvey with two options: let Kearns off the hook entirely, or send him to trial.
What follows is important.
Although he is not allowed by the Navy's legal code to comment on the case or the jury's verdict, the four-star admiral acknowledged concern about the message the acquittal may send.

He offered a warning to the officers who command or serve as second-in-command aboard Navy warships. They need not fear becoming scapegoats when things go awry, he said. But neither can they claim that less-than-ideal circumstances absolve them of responsibility.

"The absolute responsibility that you have is the Navy's greatest strength because it gives you the ability to command. And with that responsibility comes the accountability that ensures command is worth something, and worthy of those we lead."
One of the best articles written in Proceedings over the last few decades was written by then Lieutenant David A. Adams in the June 1998 issue titled Chance Second Chances. The entire article applies to this issue, but this section in particular resonates in regards to the court-martial of Lt. Cmdr. Kearns.
At the core of the problem is a belief that to be successful, individuals, commands, and institutions must appear error-free. This flawed mindset is not entirely new to the Navy, but in recent years it has escalated in scope and magnitude. Downsizing and the inflated fitness and efficiency reporting fuel a widespread perception that maintaining a flawless record is a prerequisite for promotion and selection to command. Since few naval officers have deluded themselves into believing that they are perfect, a perceived necessity to maintain an unblemished record stifles initiative, breeds caution, and encourages people to commit small—yet debilitating —ethical violations on a regular basis. In the October 1985 Proceedings, Admiral Arleigh Burke warned that overlooking small infractions of integrity could erode the stature of a leader. He never could have expected that the Navy—as an institution—could come to behave in exactly the manner he described. This blurring of institutional integrity in peacetime can only have disastrous consequences in war.

Some have argued that "yes, we have problems," but we are still "the best damn Navy in the world." True, but the best-trained and best-equipped naval forces on the planet can be beaten if they fail to maintain the trust and confidence of American people. And as we have learned all too often in recent years, a zero-defects organization that cultivates the image of perfection at the expense of honesty is headed squarely for public-disaster. In future wars, a failure to keep dishonest peacetime promises—such as zero casualties—will rapidly be translated into a public perception of military incompetence. History also has shown that a loss of public confidence can erode the public's will to fight rather quickly. Thus, the Navy's unwillingness to admit imperfection and error ultimately could bring devastating consequences in battle.
Which brings us to the very heart of the issue, as outlined later in Kate Wiltrout's article this morning.
Harvey said he's concerned that junior sailors could come to feel that high-ranking people are immune from being held accountable.

"The issue here is trust, and that's the only issue," Harvey said. "If you don't have the trust of those you lead, you don't have anything."

It's important for sailors to understand that the Navy sets a standard of accountability to ensure their leaders are worthy of trust, he said.

"And I will do everything in my power – legally, morally, ethically – to enforce and sustain that standard of accountability.

"Our leaders must be worthy of the trust of those they lead."
As I think about the court-martial of Lt. Cmdr. Kearns, I think Kate Wiltrout has appropriately found the real story here. This is a story about leadership and accountability. Both leaders in this case, Adm. John C. Harvey and Lt. Cmdr. Sean Kearns have made a series of leadership choices to stand up and be held accountable. In the case of Adm. Harvey, he is executing his responsibilities as Commander Fleet Forces Command. In the case of Lt. Cmdr. Sean Kearns, he chose to be held accountable to the decision of a military jury, which found him not guilty of the charges filed.
What is being said here is that accountability matters, but what is not being said is who should also be investigated for accountability. When Adm. Harvey says "Ultimately, it is my responsibility, working through the chain-of-command, to balance the resources I provide to our ships, squadrons and submarines with the missions I expect those units to be able to perform" he is speaking specifically of himself in his current job, but he was not in Command of Fleet Forces Command at the time of the USS San Antonio (LPD 17) accident.
The court-martial trial does not specifically state that fault lies with the leadership of those who were tasked to support the USS San Antonio (LPD 17) prior to the ship being deployed in a state that is completely unacceptable to the current standard applied by Adm. Harvey at Fleet Forces Command, but as that was the prevailing argument of the defense it can be implied as part of the ruling.
This is where we run into the real problem no one wants to touch, and none of those involved can address – and why Adm. Harvey is absolutely right to be concerned "that junior sailors could come to feel that high-ranking people are immune from being held accountable." Since I have every intention of calling it exactly how I see it – I will state up front that I have a genuine sense that the problem already exists in the Navy, and it goes beyond junior sailors and the attitude exists among many – MANY – officers in Command at the CDR and Captain level. The belief that the US Navy does not hold officers accountable is exactly why Ronald O' Rourke can testify in front of Congress and mention as a perception the lack of confidence in the US Navy regarding shipbuilding.
Officers and Sailors in the US Navy today understand their responsibilities as leaders and know they will be held accountable for their actions – and in the case of Lt. Cmdr. Sean Kearns, they only ask that they are fairly held accountable by military jury. The big problem is the blatant, obvious, and ignored perception on parade within the flag officer community that Admirals are not held responsible for the most spectacular failures of the last decade – and the only time a flag officer is held accountable is for conduct issues or political miscalculations – not job performance.
I am reminded of a speech given by James Webb on April 25, 1996 at the Naval Institute's 122nd Annual Meeting and Sixth Annapolis Seminar.
There are still exceptional leaders in our Navy, some of whom are my classmates, others whom I can see in this audience today. But too often the best leaders are not being heard. Something almost unexplainable happened in the decades since we sat in those seats in Mahan Hall. Some of it happened to the country as a whole, but some of it did not. A great deal of it happened to the Navy as an institution. It happened gradually, issue by issue, argument by argument, compromise by compromise.

Over time, getting worse as the years went by, an increasing percentage of the naval leaders who were promoted into the highest sanctums of government somehow lost their way, until finally, in recent years, many whose very duty it was to defend the hallowed traditions and the unique culture of their profession declined to do so when their voices were most urgently needed. Some are guilty of the ultimate disloyalty: to save or advance their careers, they abandoned the very ideals of their profession in order to curry favor with politicians.

I frequently find myself wondering how this possibly could have happened. To be fair, these have been uniquely difficult times for military leaders. Our generation's complex and volatile political debates resulted in unprecedented intrusions into command relationships because of new concepts of limited warfare, increased judicial oversight, and a variety of programs mandated under the rubric of equal opportunity. The all-volunteer system, with its emphasis on targeted bonuses and specialty pay, fostered greater rewards for individual skills than for group values. But the other services faced these same issues with far less chaos. The inescapable difference has been the approach of the Navy's top leadership, particularly during this decade.

And so I go back to those dank, sweltering teenage evenings in Mahan Hall, and I ask myself, what would Nimitz have said and done in these situations? Or King? Or Admiral McCain'? Or, dare I be presumptuous, Tom Moorer, one of the great living admirals of our time? Indeed, what should any true leader who believes in the system that advanced him and in the people who serve that system feel compelled to do'? And why has it not been done'?

Perhaps over time moral courage became less important as a promotional criterion than political correctness, so that many of the most capable simply did not get promoted in the first place, couldn't make the cut in an environment where politicians more and more frequently played favorites.

Perhaps some kept their courage but became confused regarding their jurisdiction in this ever-widening grey area where military and political control overlap. Perhaps, some chose to hide behind the notion of civilian control as a way to duck the hardest issues facing them, issues they feared might be dangerous to their personal advancement, issues that might even affect their ability to get a good corporate job when they retired.

Perhaps for some, loyalty became personal rather than institutional, directed at saving the boss rather than the service itself, and along the way getting one's self a fine fitness report. Or, just maybe, all of the above, in varying amounts, depending on the individual and the crisis of the moment.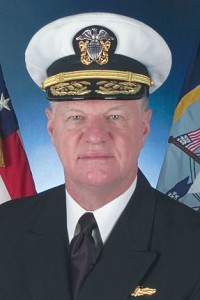 In my opinion, Adm. Gary Roughead has been the best Chief of Naval Operations in the 21st century, and I can say this with confidence despite disagreeing with him on an unmentionable number of issues and decisions he has made. No CNO this century has had to make more tough decisions on highly public and controversial issues than Adm. Roughead has over the last 3+ years. With that said, in my opinion his record has an enormous stain that will severely stain his legacy – he failed to hold several of the highest ranking leaders under his immediate command accountable for their job performance. Their failures are paraded today as promotions even though they are representative of the Navy's struggles and outright failures over the last decade.
Before Adm. John C. Harvey took control at Fleet Forces Command, there was no accountability for the poor job performance at Fleet Forces Command. We absolutely know there was poor job performance at Fleet Forces Command before Adm. Harvey arrived, because that is exactly what The Balisle Report revealed. Adm. Jonathan Greenert's resume at Fleet Forces Command is the catastrophe described in the The Balisle Report. The effective defense that acquitted Lt. Cmdr. Sean Kearns by military jury in the court-martial was based on, but not identified as, the terrible performance of Adm. Jonathan Greenert at Fleet Forces Command at the time. Virtually the entire San Antonio class of vessels is in dry dock undergoing incredibly expensive repairs because by coincidence – if you believe it to be coincidence – the San Antonio class problems were not revealed by Fleet Forces Command while under the command of Adm. Jonathan Greenert, rather were only revealed once Adm. Harvey took command.
And for three strikes of consistent failure that have only been revealed since the departure of Adm. Greenert from Fleet Forces Command – failures that have resulted in the death of sailors like Petty Officer 1st Class Theophilus Ansong – Adm. Jonathan Greenert's record went unblemished to the point he was promoted to Vice Chief of Naval Operations in the Navy. He is not the only Navy Admiral promoted under Adm. Roughead's tenure whose record in hindsight is one of failure, but Adm. Greenert is the most prominent Admiral promoted and represents the posterchild for the perception that accountability doesn't apply to flag officers.
Adm. Harvey, Lt. Cmdr. Sean Kearns, and Petty Officer 1st Class Theophilus Ansong's family can't do anything about the lack of accountability at the top of the Navy chain of command. Nobody in the Navy or who does business with the Navy would dare call out a Navy leader by name publicly. Only Adm. Gary Roughead, Secretary Mabus, or Secretary Gates could do something about it from inside the Pentagon, unless the new Congress decided to take up their own investigation. It is a truly sad state of affairs in the Navy when a blogger, blessed only by the freedom implied in the independent forum mission of the US Naval Institute, can highlight the failures of Admirals in public in 2010 without worrying about ones career – but then again the culture problems in leadership discussed in 1996 by James Webb, just like the culture problems in maintenance discussed in the The Balisle Report that date back to at least 1996 – still exist, don't they.
These problems are institutionalized, I fear, but I remain encouraged for the future of the US Navy. In my opinion, one cannot observe the actions of Adm. John C. Harvey, regardless of whether you agree with them, and not see the lights at the end of the tunnel. God bless the US Navy – I do hope it is a train.