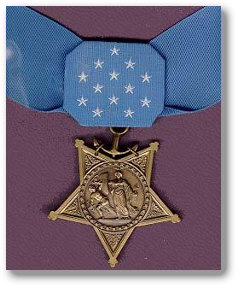 On Saturday, 13 November, the United States Navy will commission the Guided Missile Destroyer USS Jason L. Dunham, DDG-109. Every Marine knows, and every American should know, Corporal Dunham's story.
Commandant of the Marine Corps Gen. James Amos will deliver the ceremony's principal address. Debra Dunham will serve as sponsor of the ship named for her late son. The ceremony will be highlighted by a time-honored Navy tradition when she gives the first order to "man our ship and bring her to life!"

Dunham was born in Scio, N.Y., Nov. 10, 1981, sharing the same birthday as the U.S. Marine Corps. On April 14, 2004, Dunham's squad was conducting a reconnaissance mission in Karabilah, Iraq, when his battalion commander's convoy was ambushed. When Dunham's squad approached to provide fire support, an Iraqi insurgent leapt out of a vehicle and attacked Dunham. As Dunham wrestled the insurgent to the ground, he noticed that the enemy fighter had a grenade in his hand and immediately alerted his fellow Marines. When the enemy dropped the live grenade, Dunham took off his Kevlar helmet, covered the grenade, and threw himself on top to smother the blast. In an ultimate selfless act of courage, in which he was mortally wounded, he saved the lives of two fellow Marines.
We often hear about the "Old Corps" and how this generation doesn't measure up to the past, and we worry if our Legacy of Valor is in good hands. Then, we see the Jason Dunhams, and the Jeffrey Holmes, and the Dakota Meyers, and the Doug Zembiecs. And we know that their chapter in the long and glorious history of our Corps will stand with any that has come before.
When I recall the faces of those young Marines as we headed down Route Michigan ("IED Alley") into Ramadi day after day, how they faced the danger and closed with the enemy wherever they found him, there is an emotion that is equal parts pride and awe that cannot quite be explained by words. At least not any I know. So it is appropriate on this 235th Birthday of our Marine Corps that we think of Corporal Jason Dunham and those like him, whose courage shone in even the darkest days in Iraq and Afghanistan.
Corporal Jason L. Dunham would have been twenty-nine years old today. He gave his future so that we may have ours. Yet, he will live forever in the hearts of his Marines and his loved ones.
Semper Fidelis, and Happy Birthday.

Posted by
UltimaRatioReg
in
History
,
Marine Corps
,
Navy