Our year one personal project was the reshaping and the alignment of the United States Navy. And we saw a need to recreate the community leadership that in our view we had lost. The heart of that effort was the type commander merger. To create one Navy, it was our view that these two organizations and these two fleets the Atlantic and the Pacific could not function as two but had to function as one. And the term Super- TYCOM was born as we established these individuals to lead our major communities.

Tim I thought was the perfect officer to rise to leadership and replace Ed Moore as the surface Navy's Super TYCOM. I wanted Tim because as I said he was an innovator, but he was also a person who had the courage to challenge the status quo. And it wasn't something that came to him late in life; it was a characteristic that he had been demonstrating all of his life.

And it was time to do that, in my view, at the most senior levels of the United States Navy. Many of us for years study, do studies, and do studies, and do studies. And then we think about maybe we should do something and maybe then we study and we study. Well I don't like that approach very well. Tim LaFleur had a different mindset too. He didn't wait and he put the rudder over hard and I'll tell you honestly at the time none of us were completely certain of the outcome. Who could predict the future? And yet, collectively we were very confident that there was incredible value in this journey and ladies and gentlemen, Tim LaFleur had the courage to lead us on this new journey. He got to the heart of why we did things. Challenged decades old assumptions. Helped give our institution a corporate perspective, applying business principles to logistics and training and manning. He taught us the potential of fleet alignment.

He rewrote our Navy's flag officer assessments. He drafted the fleet requirements for the Littoral Combatant Ship. He engineered the concepts behind Sea Swap. He orchestrated our Optimal Manning concepts. He agreed that it was time to capture the full potential of our senior enlisted force and is now putting chief petty officers into division officer billets on the United States Ship Decatur. And along with Phil Balisle he has led a revolution in the maintenance game, something that we call SHIPMAIN, completely restructuring the way that we maintain our ships.

Admiral Vern Clark Edited Remarks
Retirement of Vice Admiral Tim LaFleur,
Commander, Naval Surface Forces and
Commander, Naval Surface Force, U.S. Pacific Fleet
San Diego, Calif.
March 4, 2005
The Navy has been looking into the history of a lot of problems lately. This effort is actually being led by Admiral Harvey, Commander, Fleet Forces Command. I wish I could give you names for others who are leading this effort, but those names aren't available in public yet. At Fleet Forces Command Admiral Harvey has become the canary in the coal mine. The Fleet Review Panel led by retired VADM Phil Balisle and the SAN ANTONIO JAGMAN are results of one Navy leader demonstrating leadership by taking responsibility, then following up by going up to Congress to hold himself accountable for his obligations as a leader in the US Navy. An outline of what is being done now to correct a decade of problems can be found in the statement to the House Armed Services Committee from July 2010 (PDF)
After a decade of red flags in shipbuilding, maintenance, training, and infrastructure why did it take until 2009 for a US Navy leader ashore to stand up and claim to be accountable both in the fleet and on Capitol Hill? More importantly, how many Navy leaders passed up the responsibility to deal with serious problems when it was their turn? The Fleet Review Panel and the SAN ANTONIO JAGMAN are but a few of the major studies conducted. There are others, some as big and many just as detailed.
When I read the Balisle Report, the history outlined in the report suggests the problem started many years ago when Vern Clark was CNO, and two names in particular keep popping up – Tim LaFleur and Terry Etnyre. It is hard to draw conclusions from a single speech, but the remarks by Admiral Clark at Tim LaFleur's retirement ceremony strike me as a summary that explains the changes that were taking place, and it is quite ironic the speech includes a warning regarding the outcome. In hindsight it is very easy to look back and examine the unintended consequences. In hindsight we can also look back and see if all of the unintended consequences have been exposed.
There was evidence of smoke in the Navy by the time Terry Etnyre replaced Tim LaFleur in 2005, but outside of LPD-17 it was difficult to identify where the fire was. Under the leadership of both ADM Mike Mullen and ADM Gary Roughead, the smoke has been repeatedly dismissed as the fog of change. Only as things got worse across the shoreline, and perhaps only in hindsight, do the trend lines reveal the problems.
The first serious fire was found in shipbuilding and the problems with the Littoral Combat Ship program on the heels of the San Antonio class shipbuilding problems. Specifically for the LCS, the inability to build ships due to poor management and constantly making changes after construction began were compounded by terrible designing and budgeting metrics up front. This combustible combination has led to the two most expensive Navy vessels built per ton for at least 3 decades for any ship over 2000 tons, at least that is what my calculations suggest using the historical CBO data available for shipbuilding large surface ships over the last 30 years.
Once construction already began, the number of changes requested by the Navy for the LCS program was out of control, and what has followed has been an indictment of shipbuilding for US Navy ships ever since with a number of hull cancellations to prove it. What hasn't been seen in shipbuilding is any accountability regarding NAVSEA's role in the Littoral Combat Ship program, including all three mythical modules of which a baseline still doesn't exist for any type (MIW, ASW, ASuW). Multiple groups, most of which are under the NAVSEA leadership umbrella, have repeatedly failed in the development of the Littoral Combat Ship. On the heels of the failures with the San Antonio class, this should be unacceptable – to someone. No one in Navy leadership ashore has officially been held publicly accountable.
The second serious fire can be identified as the deployment of USS San Antonio (LPD 17). The oil lube problem in November 2008 during the deployment of LPD-17 raised many questions about material quality, but it should have also raised questions why the ship was deployed in the first place with so many training, maintenance, and readiness issues surrounding the ship. In February 2009, Petty Officer 1st Class Theophilus Ansong was lost to the sea during a small-boat operation, and with the subsequent court martial of Lt. Cmdr. Sean Kearns (where he was acquitted), the SAN ANTONIO JAGMAN, and the class wide stand down earlier this year observers are left with serious questions of Admirals regarding LPD-17 that have gone unanswered. We seem to have a lot of public information that indicts the ships officers and crew while pointing fingers at the shipyard, but that is because the shipyard and the ship are the only folks who have been the focus of all public scrutiny to date. No one in Navy leadership ashore has officially been held publicly accountable.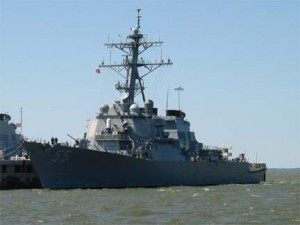 The third serious fire seems to point to the information brought public by Navy Times and their parent company Defense News who reported on the USS CHOSIN and USS STOUT INSURVs in 2008. The maintenance issues represented in those two INSURV reports raised quite a few eyebrows – but at the time no one was able to point to a systematic problem. I think the INSURV issue is most instructive, because it exposes where the eye doesn't see.
These reports were classified by ADM Greenert, despite never being classified during the cold war when the Navy faced much more serious threats than they do today. As a classified document, the classified INSURV prevents the taxpayer from independently examining the readiness and condition of the fleet.
On March 25, 2009 the House Armed Services Committee held a hearing related to the INSURV reports following the decision INSURVs should be classified. The panel was Rear Admiral Philip H. Cullom, Rear Admiral Joseph F. Campbell, Rear Admiral James P. McManamon, and Rear Admiral Thomas J. Eccles. They cited statistics that suggest everything is fine, the failure percentage is small, and they outlined responsibilities, or blame, depending upon how you read it (PDF).
During the past six years, the Board of Inspection and Survey has completed 191 inspections, an average of about 32 per year… The root causes of failures are ship leadership teams not following procedures and policies, and not practicing the basics of equipment maintenance and operation.
The report goes on to say "Of the 191 INSURV inspections during the 2003-2008 period, there were 18 surface ships found to be unfit or seriously degraded; approximately 10%. The results for the ships with numerous issues are indicative of the ship's leadership team not following procedures and policies and not practicing the basics of equipment maintenance and operation."
It is important to note that neither a definition of what constitutes a pass or fail on an INSURV was given nor a discussion of accountability was discussed at the hearing. Were you aware that the COs of both CHOSIN and STOUT fully disclosed the problems that were found by the Board of Inspection and Survey? That full disclosure probably saved the careers of both COs. In some cases when a ship is about to be visited by the Board of Inspection and Survey, SURFLANT or SURFPAC will be sent a list of problems from the CO, and the response will often be for the CO to condense the problems listed into a shorter priority list due to lack of funding. Maybe someone should ask Vice Admiral D. C. Curtis and Rear Admiral Kevin M. Quinn why there isn't enough money in the maintenance budgets to address all the problems reported by a CO preparing for an INSURV?
At the hearing we also learned something new at the time, an admission there was a serious problem with the maintenance requirement of surface ships.
Additionally, surface ship class maintenance plans have not been as detailed, nor have they been maintained with the same technical rigor, as those for aircraft carriers and submarines. As a result, this weakness has become one of the greatest obstacles to the surface fleet's ability to articulate the 100% maintenance requirement necessary to reach expected service life for these platforms. It is also an impediment to our resource planning, given that this requirement serves as the entering argument to our maintenance costing model. Until recently, surface ships have also not had a dedicated life cycle organization responsible for maintaining the ICMPs, building availability work packages, or providing technical oversight/approval for Fleet work deferral requests. Together, lack of detailed class maintenance plans and a dedicated life cycle organizations make surface ship material condition susceptible to changes in optempo which is why the Surface Warfare Enterprise is devoting significant effort to both of these areas.

Differences in maintenance philosophies between ships, submarines, and carriers have also had an impact upon the resources allocated to these platforms. Fleet priorities, the unambiguous maintenance requirements of aircraft carriers and submarines, and the lack of an updated/technically validated surface ship ICMP has historically resulted in surface ship maintenance being the area where we take funding risk in a resource constrained environment.
In other words, NAVSEA states as fact to Congress that the fault for surface force INSURV failures is always with the ships leadership while at the same time casting serious doubt on the maintenance requirement itself. This could be read as stating that it is the responsibility of the ship to find and identify problems for the Board of Inspection and Survey. Agreed, but it can also be said that NAVSEA is saying all problems are the fault of officers and crew when it comes to maintenance while NAVSEA can't define the requirements for maintenance, which disrupts the budget and shorts requests made to SURFLANT and SURFPAC. Is that what has been happening?
Apparently not, because the comments following the press reporting of CHOSIN and STOUT are revealing in hindsight. Capt. David Lewis told the press "We are 100 percent funded to our requirement for maintenance." What does that actually mean though if the requirement may not be stated well? For the record, Capt. David Lewis in 2008 is now Rear Admiral David H. Lewis, who happens to be PEO Ships today. The same statement was made in Adm. Jonathan Greenert's Podcast from May 20 later that year.
"If there is a problem they [the media] report it, then it is our job as senior leadership to find out what is the truth when dealing with that report," he said. "I don't characterize reports as positive or negative, I look for what are they saying, what are they telling me? Is it balanced and is it accurate? In the case of these recent two ships they were accurate."

"The root cause could be maintenance support, it could be training support, could be the ship may or may not have had its priorities right when they looked toward their readiness," Greenert added. "In talking to staffs, Sailors and leaders, I don't think that money is the issue. It's a rumor that there is not adequate funding. Congress is providing us with everything we ask for readiness. Every place I look, we have plenty of money. We fund 100 percent of what we know that our ships, squadrons and submarines need. The key is communication."

"I think that our surface fleet overall is just fine in readiness. Our INSURV reports convey that message as well. The vast majority of our ships do fine on their INSURV. But we continue to look into these matters and we'll continue to look into this to see what those root causes are, so that doesn't proliferate across the fleet.
NAVSEA testified in the House just 2 months earlier saying this was an operator problem and was casting doubt on the maintenance requirement as a whole, and funding of the surface force as a whole. If "the key is communication" then where was the communication between NAVSEA's March Congressional testimony and Commander Fleet Forces Command podcast in May? According to Greenert, everything was just "fine" in 2008, but according to the Balisle Report, surface force maintenance was a mess. The Balisle Report states there was both a requirement and money problem.
Observations/Findings. Surface ship maintenance has been significantly underfunded for over ten years. This is manifesting itself in the degraded material condition of the ships as reflected in recent INSURV reports, corrosion audits, and CASREP data. The decision to transition to condition based maintenance from an engineered operating cycle maintenance resulted in the reduction of over 500 man days per month of depot level maintenance from DDG 51 class ships alone and a corresponding reduction in programmed operations and maintenance dollars for ship depot level maintenance.

While the difference was intended to be compensated by an increase in funding and opportunities for continuous maintenance availabilities throughout the year, that never translated into reality. A clear indicator of the fallout of the lack of funding is the steady increase in TA-4 (ship force capable) level work.

It may legitimately be said that insufficient funding applied over recent years has not been the result of an unwillingness to fund to the requirement as much as the result of not having a properly identified requirement.

For example, as programmed, it may appear that overall ship maintenance is funded at 95-99%. In reality, since we don't know the true maintenance requirement for conventional surface ships (the "denominator"), it is reasonable to assume that our surface ships receive a lower percentage for maintenance funding when compared to a true requirement. Currently as maintenance dollars are allocated by the Fleets, public shipyards (where the majority of CVN and submarine work is performed) are funded at levels between 97-100%. That leaves the balance of the maintenance funding left to be allocated to conventional surface ship maintenance. Currently one of only two items in the CNO's Unfunded Requirement list to Congress is $200M for ship maintenance.

The end result is the surface navy is funded below their identified requirement at the start of the year with the goal of making up the balance as money becomes available during the execution year. This unstable funding environment almost exclusively impacts the private shipyards, where most of the non-nuclear ship maintenance is performed, and results in higher work rates aas jobs get screened into the availability package laer due to uncertainty of funding commitments. The end result is an understanding requirement that has been underfunded in the budgeting process that is frequently going to cost more in actual execution because of an unpredictable funding stream, in other words, a low return for maintenance dollar invested. To further impact material readiness, the surface Type Commander frequently has to make irrevocable mitigation decisions earlier in the fiscal year due to projected uncertain (or unfavorable) levels of funding. If a CNO availability is subsequently canceled, or de-scoped prior to a midyear money bring available, that maintenance most likely will not be made up later in the year. Alternatively, cash flowing throughout the year on the hope that more money will be available later is a tenuous business plan that can leave availabilities scheduled for the end of the fiscal year exposed and unfunded.
Should not ADM Greenert, or anyone else, have realized there was a serious funding problem in 2008 when you had problems with funding maintenance in cases like the USS Gunstan Hall (LSD 44)? Apparently, the USS Gunstan Hall (LSD 44) had to wait for war related supplemental funding to finish the ships mid-life modernization, which began in July 2008. The Navy's first modernization of an Whidbey Island LSD was dependent upon and ultimately delayed waiting for war supplemental funding, and yet ADM Greenert said "Every place I look, we have plenty of money" for surface ship maintenance? Was ADM Greenert looking at different budgets? Was this what his staff was telling him? In hindsight all the budgets were short on money because the requirement was wrong, but it does raise the question for POM 12 if the Navy will still be paying for surface ship maintenance from war supplementals?
What does it mean when leadership knows there might be serious problems with surface force maintenance requirements but is saying things like the requirement is fully funded? It means they are talking about efficiency instead of effectiveness. The Balisle Report is a list of choices begun under ADM Vern Clark, implemented by Tim LaFleur and Terry Etnyre, whereby over a decade Navy leaders emphasized the business end of efficiency over effectiveness. I believe the record of accountability ashore over the same decade reflects that emphasis of efficiency over effectiveness, and explains why the US Navy has officially held zero flag officers ashore accountable for being effective, which is how I believe the Navy should measure job performance, in an atmosphere ashore where the record suggests poor performance in shipbuilding, maintenance, and budgeting related to the surface force.
I believe there is a serious problem in Leadership and Accountability in the US Navy today, and I believe a generation of leadership has relaxed standards of accountability for themselves. I believe accountability for leaders ashore is the blind spot where those leaders aren't looking for accountability, and civilian leaders to date have not taken any notable action that holds Navy leaders accountable either.
How can the US Navy be operationally brilliant and suffer from widespread and systematic problems across the shoreline? Whether the topic is shipbuilding, maintenance, training, or infrastructure the land side of the Navy is failing while the operational side of the Navy has succeeded in meeting every challenge. The Navy doesn't shoot down derelict satellites with spectacular results in a limited time frame for action without a serious commitment to excellence. The Navy doesn't solve a hostage crisis resulting from the MAERSK ALABAMA hijacking in a single second with 3 shots on a rolling ship without a serious commitment to excellence. Disaster response across the globe, whether in Southeast Asia or Haiti, doesn't happen consistently without a serious commitment to excellence. That serious commitment to excellence seen on the operational side of the US Navy comes with a full commitment to responsibility, and a full understanding of the commitment towards accountability. You do not make it past Ensign in the US Navy until an officer has a complete understanding of leadership and accountability – and it is demonstrated on the operational side of the fleet every day.
But is the same approach to responsibilities demonstrated on shore? The Balisle Report makes clear – problems with maintenance started during Admiral Clark's tenure. I believe that along with his ideas for the Navy to operate more akin to a business culture was an emphasis on efficiency over effectiveness that took hold in the leadership culture ashore. This in turn allowed the Navy to claim they were a results oriented organization by showing the results of efficiency rather than the results of job performance. When someone claims 100% funding to maintenance requirement, for example, that is a demonstration of results in the context of efficiency, not in the context of effectiveness.
As opportunities came up for leaders in the Navy to sound the alarm on the decline of effectiveness as it gave way to the efficiency focus, no one acted until late 2009 despite several opportunities and warnings.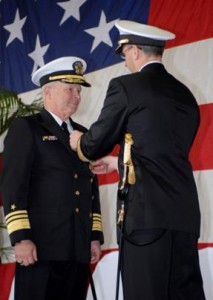 The first fire was inside the Navy and not discussed widely outside the US Navy. When the USS Arleigh Burke (DDG-51) ran aground in May 2007 Commodore Destroyer Squadron 2, Capt. Larry Tindal was on the ship. In the end he was only given a soft reprimand for the ship running aground. Why? Every Ensign in the Navy knows the senior officer on a ship is accountable for the ship, and Capt. Larry Tindal was on the bridge when the ship ran ashore. The Navy correctly dealt with the ships officers in that case, but let the Commodore slide. Everyone noticed – it was a big deal at the time. That should have been a red flag to Navy leadership regarding standards of accountability, but the CNO down did not see the problem, or did not want to. Today, Capt. Larry Tindal is Deputy N86 for Surface Ships at OPNAV N86E, which if you ask me is a department right in the middle of that leadership culture at OPNAV where accountability ashore is measured in efficiency instead of job performance.
There were two other fires that were more obvious outside the Navy – the cost problems for building the first Littoral Combat Ships, and the first deployment of USS San Antonio (LPD 17).
When it came time to deploy USS San Antonio (LPD-17), there were a lot of problems that had not been addressed on that ship, and based on factual findings during the recent court martial everyone apparently knew it. The question was, would the problems be addressed or was the Navy in a hurry to put the ship to sea? In my opinion the senior leader in the Navy that should have been the canary in the coal mine in 2008 was ADM Jonathan Greenert at Fleet Forces Command, but as the senior leader involved in the decision to deploy the ship, he sent the ship to sea despite red flags the SAN ANTONIO was clearly not ready, and a sailor died. ADM Patrick Walsh was the Vice Chairman of Navy Operations at the time. Was he unaware of the serious problems surrounding USS San Antonio (LPD-17) or was he one of those Navy leaders pushing to deploy the ship. These leaders had reasons for their choices, and they might be good reasons, but when a leader in this generation of Navy leaders pushes ahead with action when there are already public problems and criticism, something tells me ship combat effectiveness wasn't the motivation. Navy leadership really doesn't see the problem, or you could say no one is learning because no one will admit deploying USS San Antonio (LPD-17) before she was ready was a mistake. The same leaders did the same thing when USS Freedom (LCS 1) was deployed well before she should have earlier this year, and hardly surprising, FREEDOM ended up limping back to dry dock for repairs. Thankfully, no one died this time.
I strongly believe deploying the ship wasn't about the effectiveness of USS San Antonio (LPD-17), it was about running an efficient command ashore and meeting deadlines. If something went wrong, they would do what they always did with LPD-17; blame the officers and crew, and of course the shipyard. What was the "communication" at the time from SUPSHIPS, PEO Ships, PMS 317, and a host of others at NAVSEA? Good question, no one knows.
Perhaps we should ask someone? PEO Ships in August 2008 when LPD-17 was deployed was Rear Admiral Charles H. Goddard, who was actually the only leader fired at NAVSEA during this time period. It is absolutely vital to understand – Rear Admiral Goddard was officially fired for personal conduct, not job performance. Program Manager at PMS 317 was Captain Bill Galinis, who is now Supervisor of Shipbuilding, Gulf Coast. SUPSHIPS Gulf Coast at the time was Captain Beth Dexter (PDF), who is now Commander at EDO School.
NAVSEA has reach into every over budgeted and poorly executed problem ashore related to shipbuilding and maintenance, and yet there is no evidence of accountability for these problems inside NAVSEA. Admiral Kevin McCoy has been in upper leadership of NAVSEA in some capacity over the last six years, over half the period discussed in the Balisle Report, so perhaps he should be asked why NAVSEA has had so much trouble simply staying on budget. While Vice Admiral Bill Landay was PEO-Ships, every surface ship program was over budget and had additional cost increases, surface ship maintenance was underfunded, and there was a poorly defined requirement tied to the absence of TOC data for surface ships. Is VADM Landay the one who deserves credit for identifying and addressing these problems? He was given his third star, but seriously, what does a promotion for someone working in NAVSEA mean anymore? The absence of accountability in NAVSEA makes it difficult to identify the folks doing a good job, because it makes them equal with those who haven't been doing a good job.
A casual look at the command rotations this summer might, to some, raise questions regarding the application of accountability to leadership for job performance, or some may question whether these moves reflect efficiency over effectiveness.
CAPT Chris Mercer has relieved CAPT Jeff Reidel as PMS(377) the amphibious ships program manager
CAPT Jeff Reidel has relieved RDML Jim Murdoch as PMS(501) the LCS program manager
RDML Jim Murdoch is relieving RADM Orzalli as the N43 Fleet Forces Command
RADM Clark Orzalli is relieving RDML Dave Lewis as Deputy Commander of the Naval Sea Systems Command
RDML Lewis is relieving RADM Bill Landay as PEO(SHIPS)
RADM Landay is getting a third star and relieving VADM Jeff Wieringa as Director Defense Security Cooperation Agency
CAPT Jim Downey has relived RDML(sel) Jim Syring as PMS(500) the DDG1000 program manager
RDML(sel) Jim Syring is relieving RADM Terry Benedict as PEO(IWS)
RADM Terry Benedict is relieving RADM Steve Johnson as Director Strategic Program Office
RDML Dave Gale has been appointed Commander Navy Regional Maintenance Centers relieving Ms Peggy Harrell, SES, and moving that organization from SEA04 and reporting directly to COMNAVSEA.
My point is, just as I believe the Balisle Report states in great detail, the Navy leadership culture ashore measures job performance by efficiency, not by job effectiveness. My point is not to say some specific person needs to be fired for job performance. My point is to say no one has been fired for job performance under this new standard of accountability. My point is the Navy can address specific problems or processes, but my point is also to highlight that without accountability in the process the Navy is not addressing the culture problem in leadership ashore. I believe the trends of effectiveness ashore are going in the wrong direction in multiple categories as outlined in this post, and I believe further evidence of sloppy budget management by leadership in shipbuilding is coming in the very near future as it relates to large surface combatants.
I believe it is fair and important to question the absence of public accountability of leadership ashore at a time when the strict standards of accountability for job performance at sea happens to coincide with brilliance in execution and effectiveness in operations at sea. At sea efficiency is often discarded in the name of effectiveness. Ashore, too often the drive towards efficiency as a goal line has been the reason effectiveness has been elusive, and the short cuts taken in the name of efficiency over effectiveness is ultimately why efficiency is never achieved over the long run anyway. If you believe that poor budgeting and poor execution of shipbuilding and maintenance does not reflect on job performance, then by what standards should leaders ashore be measured?
I am not trying to say that some of these people are responsible for the problems in shore based support, rather I believe that if leadership and accountability on the shore in the US Navy means the same thing that it does on the operational side of the US Navy, then every single leader named in this blog post and many more not listed is responsible, and is part of a generation of leaders in a leadership culture that focuses on efficiency of a department over the job performance of fielding an effective Navy. When you are the senior Commander on a ship, and the ship runs aground, it used to mean that senior leader is accountable. In today's peacetime home front Navy leadership culture, as the case of Capt. Larry Tindal suggests, everyone above the CO of a ship gets a pass.