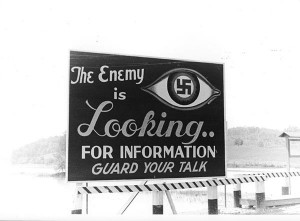 Name the number of ground breaking, original developments in the information world in the last 40 years that came from the mind of someone over the age of 30.
Apple, Microsoft, Facebook, Twitter, and the entire horde of unbathed be-speckled hackers – all sprang from the minds of the young. Sure, they were enabled by a cadre of experienced support staff who knew how to make capital markets, logistics, and marketing work — but the creative spark came from the under-30 and more often than not, under-25.
As we have watched the moves to stake out the yet to be fully defined high-ground in Information Warfare – from the serious major commands to the silly EveryoneGetsATrophy "warfare" pins – perhaps it would be helpful to take a step back and ponder.
Where do we find the right combination of intellectual capital, infrastructure, and financial support to make the recipe work?
Do we get it by hiring a bunch of 40-50 something retired military GS and CTR types within a easy commute of Chrystal City? Does that fit the template of success? Errrr ….
Do we outsource to a Silicon Valley firm slathered with Chinese, Indian, and other nationalities? Ummm ….
Hmmm. Where in the Navy can we find a cohort of dedicated, intelligent, young, and exceptionally intelligent young men and women to put their minds to work on problem? Someone who you might get institutional access to for a few decades or so as their knowledge base grows?
Looks like smarter people than your humble blogg'r are already on the hunt.
The U.S. Naval Academy's new superintendent wants his campus to become a center for cybersecurity education, with a $100 million building and a slate of new classes devoted to the emerging discipline, he said Friday in his first interview since taking the job in August.
Just let it be a bit gonzo and not so stultifying — include summer internships with civilian cyber security firms if possible, and you just may have something here.
I think you can argue the price tag, scope, and direction you take the program – but the concept? The investment payout?
Priceless.
BZ VADM Miller. BZ.

Posted by
CDRSalamander
in
Cyber
,
Innovation
Tags:
information policy