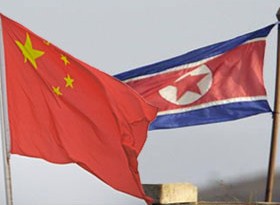 The words today from China regarding North Korea's act of war should come as a surprise to nobody. Anyone watching with an objective eye could see the direction in which appeals for condemnation from The People's Republic of China were heading.
Sure, there was some speculation on the "delicate" position China was put in by North Korea's actions. How North Korea threatened "regional stability" and "economic prosperity", both of which were China's REAL interests. How China could not "read the Pyongyang tea leaves", and was as in the dark as the West regarding Kim Jong-Il's intentions, or that of his designated successor, Kim Jong -Un. How the threat of "masses of North Korean refugees" streaming across the North Korea-China border would spur China to action.
Believe none of it.
Red China is a master of power politics, a game most of the West, America included, seems not only to have lost any taste for, but of late all but refuses to admit exists in the international realm. President Obama yesterday used strong words to condemn the actions of the North Koreans, and pledged US support for South Korea against any aggression from the North. He also appealed strongly to China to keep their renegade neighbors to the south reigned in. So far, as in each and every other instance of the last decade, including the sinking of a ROK Navy frigate this past Spring (with the loss of 46 sailors), China's response has not substantively altered. Once again, intransigence regarding their North Korean allies.
This, from Bloomberg:
President Barack Obama's call for China to put more pressure on North Korea to stop military attacks on South Korea may go unheeded in Beijing, where officials refuse to pin any blame on their ally, analysts say.

Obama, Japanese Prime Minister Naoto Kan and South Korean President Lee Myung Bak called for China to use its influence to control North Korea's behavior, following yesterday's deadly artillery salvo. Four people were killed and 20 wounded, mostly soldiers, when Northern forces shelled the island of Yeonpyeong in the first attack of its kind since the 1950-1953 civil war.

"China thinks the most important and urgent goal right now is to make sure there won't be any escalation of the conflict, rather than finding out who's responsible," said Yang Xiyu, a researcher at the China Institute of International Studies in Beijing, a group attached to China's foreign ministry.
The statement, particularly the insistence on limiting escalation rather than "finding who's responsible", is almost verbatim what was said at the time of the North Korean torpedoing of the ROK frigate Cheonan. (This, after our Secretary of State presented indisputable proof to Chinese leadership, a major thumb in the eye of US policy makers.)
As has been said often before, North Korea is as China allows and encourages North Korea to be. Rationalization otherwise is foolish, and reflects a dangerously naive optimism that The People's Republic of China feels compelled to follow the same rules as does the United States and her allies when executing her diplomacy. It is worth stating again:
Under China's benevolent protection, Kim Jong Il and his father before him, have done the following:
Developed a nuclear capability
Tested several weapons in 2006 and 2009
Advanced ICBM ranges and capabilities
Defied international pressure to desist in those nuclear programs
Executed several SOF border incursions into South Korea
Supplied arms to Hezbollah and Hamas through their Iranian proxy
Shipped (and attempted to ship) likely nuclear and other WMD components to the Middle East
Engaged, almost certainly with China's technical assistance, in a cyber attack against the United States and South Korea
Is likely involved heavily in counterfeit and narcotics trades
Torpedoed and sank a ROK warship in international waters, killing 46 ROK sailors
Fired artillery into South Korean territory without provocation, killing four ROK service members and wounding two dozen civilians
China deliberately thwarted the enforcement of UNSC 1718 and 1874, effectively removing any meaningful teeth from what might have been significant international action. Elsewhere, China has become increasingly bellicose, leveraging herself into advantage across the spectrum of diplomatic actions. China's aggressive stance on the Spratley Islands dispute has alarmed her neighbors and Western leaders. The PLA Navy is expanding, with shipbuilding capability expanding even faster. China has posited, and then begun perfecting, cyber disruption of US economic, military, and critical infrastructure networks. China continues to leverage US debt to economic advantage. China is securing world energy sources in Iran, Africa, Indonesia, and elsewhere for her consumption alone, to the exclusion of other nations.
The time has long since come to recognize at the highest military and civilian levels of leadership in the United States that China is very far from being a benevolent ally, and even farther from sharing any kind of common interests or vision of either Asia and the Pacific Rim, or any other geographic region where they perceive their interests to lie.
Statements from the Pentagon over the recent exchange of artillery fire are that "nobody wants a war", or words expressing similar sentiment. But someone certainly seems to desire war. The firing of aimed artillery for more than an hour at military and civilian targets inside another country is not an accident. Whether China is directly involved or is a highly interested benefactor of a proxy North Korea is immaterial. Be he agent, or be he principle, Ahab tells us. If we recall what Clausewitz stated two centuries ago, that war is a continuation of politics, with an admixture of other means, then perhaps we may well perceive China's actions and inaction vis a vis North Korea as some of those other means. China could resolve the situation with North Korea very quickly. They choose not to. They understand that a North Korea as a thorn in the side of the US is in their interest. Whether we quite understand that or not.
As the Western Allies must have realized to their horror and shame in the Summer of 1939, when Hitler's words toward Poland turned ever more harsh and confrontational, war comes whether you want it or not, and whether you are ready for it or not.
We had better be ready.
(H/T to Lex for the Cheonan damage link.)

Posted by
UltimaRatioReg
in
Air Force
,
Army
,
Aviation
,
Coast Guard
,
Foreign Policy
,
From our Archive
,
History
,
Homeland Security
,
Marine Corps
,
Maritime Security
,
Navy