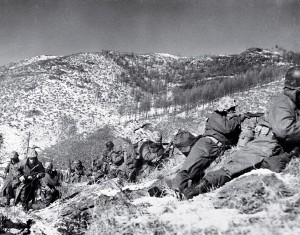 Those are the words of retired Marine Gunnery Sergeant (then-Corporal) Dave Erksen, when speaking of his time in the bitter fighting near the Chosin Reservoir.
Sixty years ago, in the small hours of the bitter cold night of 28 November 1950, Chinese Communist Forces began their attacks on US Marine positions in North Korea's Taebak Mountains overlooking the Chosin Reservoir.
In today's Burlington (VT) Free Press, a superb and sad piece from local reporter Candace Page recounting the experiences of two Vermonters, one a Marine survivor, and the other an Army Soldier who died at the hands of his North Korean captives.
The battle remains an epic for the United States Marine Corps, who, in the words of the legendary Colonel Lewis B "Chesty" Puller, CO of 1st Marines during the battle, "came out with our dead, our wounded, our equipment, and our weapons, with our heads high, marching and fighting."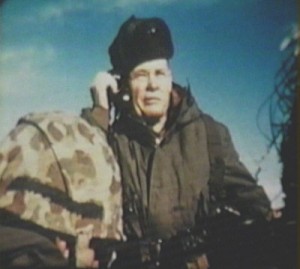 In the fighting withdrawal from the Reservoir positions through Koto-ri to Hagaru, the Marines displayed a grim determination mixed with a stirring courage that has been the hallmark of Marines in every war. There is the story of Captain Bill Barber's Fox Company, holding the pass against a regiment of Chinese, and the relief of Fox by LtCol Ray Davis and First Battalion, 7th Marines. Both men were awarded the Congressional Medal of Honor, as would seven other Marines, in the three weeks of savage fighting and even more savage weather. Those Marines were:
Staff Sergeant Robert S. Kennemore
Private First Class William B. Baugh
Private Hector Cafferata, Jr.
Sergeant James E. Johnson
Major Reginald R. Myers
Captain Carl L. Sitter
Staff Sergeant William G. Windrich
The story of the "Frozen Chosin" is filled with countless tales of individual courage in the face of the enemy and the weather, some known only to the men who participated in them or witnessed them. Such is the way with large, desperate battles against near-suicidal odds.
Gunnery Sergeant Erkson has simple but eloquent words, "We did pretty well. We didn't come out on our hands and knees. We came out with our heads up. I can't say as I liked it up there, but I'm proud of what we did."
God's mercy on Richard F. Abbott and the others who paid such an enormous cost in this battle. And on their families as well.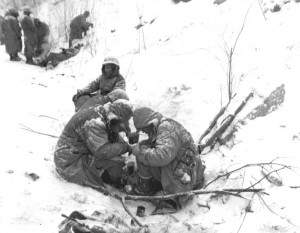 But let us remember the heroism of the men who marched and fought their way out of the encirclement, who inflicted such severe punishment on the enemy, and who had the courage to endure. Theirs is an example which inspires all Marines, and in these times may inspire yet again, in places with eerily familiar names.
Semper Fidelis.

Posted by
UltimaRatioReg
in
History
,
Marine Corps