Archive for December, 2010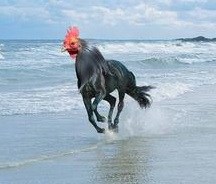 We all know about the ground services "Strategic Corporal (E4)," but in the sea services – what is the role of the mid-grade Non Commissioned Officer?
Are you interested what our front line leaders – our First and Second Class Officers are thinking?
Fellow USNIBlogg'r EagleOne and I spent a full hour talking to three of our nation's best. Get a fresh cup of coffee and enjoy a visit with our guests; we start with fellow USNIBlogg'r Yeoman Second Class (Surface Warfare) H. Lucien Gauthier III, USN, and then round it off with Aviation Electronics Technician First Class (Aviation Warfare) Charles H. Berlemann Jr, USN, and Machinery Technician First Class Tony Turner, USCG.
A returning guest to Midrats, YN2(SW) Gauthier has only been in the Navy since 2006, but sure made the most of it. He just returned from a 1-year IA from his first ship, having served the last year in both Bagram and Kandahar Airfields. In December he will detach from his current command USS SAN ANTONIO (LPD-17), and report to SHAPE after the holidays, for his first shore tour. A place, I might add, where you will find another USNIBlogg'r – Admiral Stavridis.
Moving to the air side, AT1(AW) Berlmann joined the Navy in June 1998 and joined the USS ENTERPRISE (CVN-65) from May 1999 until 2003, primarily assigned to the fire control shop in AIMD working on F-14, F-18, and S-3 radar suites.
His follow-on tours included VAQ-130 from 2004 until 2008, completing three deployments (do the math), and is now at VAQ-135 getting ready for the EF-18G to get up and running.
Not to forget our sister service, we finish up the show with MK1 Turner. MK1 joined the Coast Guard in the summer of 1998. He is currently assigned to the United States Coast Guard Cutter Escanaba home ported in Boston, MA. His previous units include Coast Guard Station Rockland, ME, Cutter Campbell and Integrated Support Command New Orleans, LA.
Click here to listen to the show. For previous shows, you can always reach the archives at blogtalkradio – or set yourself to get the podcast on iTunes.
A new report from the Center for a New American Security sounds a clarion call for more private-sector involvement in the long-term care of the burgeoning population of Veterans from the current conflicts. Author Nancy Berglass writes, "DoD and VA, of course, bear the primary responsibility for the care of those who have borne the battle, but warriors come home to communities, not to federal agencies, and so it is at this crossroads of national obligation and social welfare that a new understanding of military wellness must take root."
The report makes three key recommendations to address identified shortfalls. The first is developing and implementing a "national homecoming plan." Berglass asserts that the military does a decent job of preparing recruits for combat, but that the institution does not adequately "de-boot," or provide that long-term support that, especially, the wounded servicemen and women will need. The second recommendation is the establishment of a continuum-of-care model that enforces improved interoperability between the VA and DoD. And the third is an increase in public-private partnerships–with a vetting process that does not discriminate against smaller, non-military service organizations.
Berglass makes a convincing argument that has been echoed by many state agencies and non-governmental organizations for years. Their mantra "We take care of our own" may not be in the best interests of VA's constituents, as it is ill-equipped to respond to the wide variety of Veterans in this younger, combat-tested population of returning service members and their families. "By their very nature, federal one-size-fits-all programs simply cannot apply equally to the unique circumstances facing, for example, an unmarried wounded Army Reservist from rural Iowa, as compared to a career Marine from San Diego who is returning home to three children."
Chairman of the Joint Chiefs of Staff Adm. Mike Mullen recognized this quandary at the 2009 Defense Forum (sponsored by the U.S. Naval Institute and the Military Officers Association of America) when he asked the audience somewhat rhetorically, "How do we create a system across America that sustains [Veterans'] needs throughout their lives?" It is clear that VA cannot do it alone. Local organizations—more nimble, better attuned to their populace's demographics and in close proximity to them—are ideally suited to serve the needs of this generation of veterans that will require decades of support.
There are shining examples of non-profits outside the Veterans service sector doing enviable work. During this same speech, Admiral Mullen recognized the efforts of USA Together, a non-profit that matches service members with vetted organizations that can provide services—financial or in-kind. This clearinghouse quickly and simply connects military people who have an identified need with individuals or organizations that have services or goods to donate. It puts the needy and the service provider together with no third-party intervention or referrals.
Give An Hour is a nationwide, non-profit organization founded in 2005 with a network of mental health professionals that is providing free services to U.S. troops, veterans and their families—in the communities in which they live and work.
The state of Virginia is putting together a structure that includes a community service board with representation from all civilian organizations that can augment VA. This is being initially funded with $1.7 million out of the state budget.
Then-Director of Veterans Affairs for the state of Illinois, Tammy Duckworth, fostered the establishment of 768 community-based outpatient clinics to allow access to care in remote areas of the state. She also awarded non-profits that were working directly with Illinois veterans with state grants of up to $100,000.
Michael Dabbs, president of the non-profit Brain Injury Association of Michigan, said at the 2010 Defense Forum that his organization employs 10,000 workers in the brain injury field and says there are far more brain injury assets outside VA than inside the system.
Is VA taking advantage of all these outside resources available? Can they disavow themselves of the arms-length treatment that federal agencies and their lawyers give to all "non-federal entities" and embrace these non-federal initiatives and their innovative solutions? Do they have a process in place to quickly and efficiently augment their infrastructure with outsourced, vetted and complementary services from the states and non-profits?
Well, of course they can. I'm not even sure how that became the question. The real question, which I hope the Navy's study and pilot program will show, is should they and, if they do so, what the long term impact is to the rest of the fleet.
There is an interesting study worth locating written by the Center for Naval Analyses – "Applying Civilian Manning Practice to USN Ships".
Here are some salient points from the Executive Summary:
"No evidence that the smaller crews on MSC ships resulted in degraded performance. In fact, for all metrics examined (replenishment quantities and rates, readiness, injuries, collisions, fires, grounding, and oil spills), MSC civilian crew performance was equal to or better than that of USN military crews."
"MSC Seagoing workforce is older and more experienced. Its members have more time at sea than USN military officers and enlisted personnel with comparable years of service."
"…more focused education and practical training of civilian mariners."
"If the Navy were to decrease its crew turnover by as little as 10 percent on all ships, we estimate that crew sizes could be reduced by about 1.4 percent without affecting readiness."
"We observed that the Navy, unlike the private sector, assigns menial gallery and laundry tasks to technically trained enlisted personnel for as many as 3 to 4 months after their first arrival aboard ship…we estimate that the cost to the Navy of diverting skilled sailors to menial tasks on surface ships is in excess of $30 million annually."
"…such programs as the Optimum Manning Experiment and Smart Ship have helped reduce the number of watchstanders and enlisted billets aboard USN ships, but more can be done to reduce crew sizes and improve the quality of USN ship operation and maintenance overall."
Recommend changes:
Stop assigning insufficiently trained officers t engineering departments aboard ship.
Implement a two-track career path for SWOs (engineering and command/deck).
Shift the USN SWO culture to expect hands on participation of officers in ship engineering departments.
Increase emphasis on lateral entry and workforce pyramid reduction to achieve a more optimal workforce profile.
End the practice of assigning technically trained enlisted personnel to menial tasks aboard ship for laundry and galley duty.
Minimize frequent watchstanding rotations, to allow adequate periods of uninterrupted sleep for watchstanders.
Increase at-sea tours of key personnel, such as Commanding Officer and Chief Engineer, and other careerists with 10 to 20 years' service to gain maximum benefit from their service.
Consider changing ship requirements documentation to require manning suitable to "fight or save the ship" rather than "fight and save the ship".
"Before adopting these changes, the Navy should initiate one or two pilot programs, as described in detail in appendices F and G."
 The overall report is an interesting read, but fraught with unsupported opinions, improperly used facts, and is obviously slanted in its approach and conclusions. None of which are what I want to write about today.
 Now, did I mention that the report was written in 2005?
Yep. FIVE years ago.
So, here is a report, five years old, that Navy paid for, has 170 pages of detailed (if flawed) study of steam, diesel, and gas turbine engineering plants operated by Military Sealift Command. Yet, we are only now looking at implementing a pilot program – and doing so for a class of ship that was not reviewed in the study. Why?
Because someone without practical and relevant experience thinks that a diesel engine is a diesel engine, and convinced CNO of the same idea…and either ignores, or is ignorant of, a study that laid out in detail (40pages!) a pilot program that used FFGs and DDGs to implement MSC crewing and manning practice.
YN2 Gauthier eloquently addresses the cultural impacts and other issues of this move, and any Naval Officer worth his salt will also recognize that simply painting a blue and gold strip on the stacks and crewing a ship with civilians – no matter if they are older or more narrowly trained – will solve the Navy's maintenance and readiness problems. At best they will just move the peanut under another shell.
At its core, the pilot program that Navy leadership has proposed has little to do with readiness, and far more to do with a culture that ignores both operational realities and changed strategic landscape in favor of protecting and nurturing the idea that we will one day face fleet combat. While we may do so, we cannot, and should not, continue divesting ourselves of the capabilities that are used over and over again in peacetime.
As a final note, if there is any one thing that the Balisle Report showed it was the inability of the Surface Navy leadership to do holistic and strategic planning. Perhaps with a five year old study, and almost two years worth of internal review and debate on the operations of the Navy's amphibs we can see a plan that makes sense and actually addresses the root causes of failure, rather than just another attempt at budgetary theater.
Newer Entries »