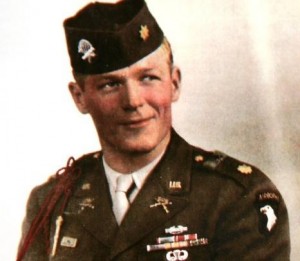 The United States has lost one of its treasured heroes. Richard C. Winters, whose chronicles of the European war from the viewpoint of a junior officer in the 101st Airborne Division inspired Stephen Ambrose to write Band of Brothers (made into the acclaimed HBO miniseries), died on 2 January 2011 after a long illness. He was 92 years old. We who espouse the warrior ethos should pause and remember him, and his magnificent recollections of those humble heroes who fought and suffered and endured and sometimes died, to defeat Nazi Germany and liberate Europe. For anyone who has not seen the HBO series Band of Brothers, it is recommended viewing from start to finish. I had the privilege of hearing Dick Winters speak about 15 years ago. His words were as inspirational half a century after the war as they were as he led Easy Company into the fight. A leader and a warrior, through and through. He shall be missed.
Let him depart; his passport shall be made,
And crowns for convoy put into his purse;
We would not die in that man's company
That fears his fellowship to die with us.
This story shall the good man teach his son;
And Crispin Crispian shall ne'er go by,
From this day to the ending of the world,
But we in it shall be remembered-
We few, we happy few, we band of brothers;
For he to-day that sheds his blood with me
Shall be my brother; be he ne'er so vile,
This day shall gentle his condition;
And gentlemen in England now-a-bed
Shall think themselves accurs'd they were not here,
And hold their manhoods cheap whiles any speaks
That fought with us upon Saint Crispin's day.
Semper Fidelis, Major Winters. The Army never had a finer one.

Posted by
UltimaRatioReg
in
Army
,
Books
,
History
,
Marine Corps
,
Navy