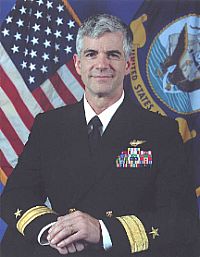 Navy Times is reporting that Admiral Larry Rice, current Director of Strategy and Policy at Joint Forces Command and erstwhile CO of USS Enterprise (CVN-65), has had his 1 February 2011 retirement date put on hold over the Capt Honors video incident which led to Honors' relief as CO of Enterprise earlier this month. There may be others among Capt Honors' seniors against whom administrative and/or disciplinary action is taken.
As most know, Capt Honors was relieved by Admiral J C Harvey, CFFC, who made the following remarks regarding that relief:
(Capt Honors') profound lack of good judgment and professionalism while previously serving as executive officer in ENTERPRISE calls into question his character and undermines his credibility to continue to serve effectively in command.

After personally reviewing the videos Capt. Honors created while serving as executive officer, I have lost confidence in his ability to lead effectively, and he is being held accountable for the poor judgment and inappropriate actions repeatedly demonstrated in those videos.
Admiral Harvey promised further investigation as to the actions of Capt Honors' seniors in counseling or reprimanding Capt Honors, then Executive Officer of Enterprise, at the time the 2006 videos were made and shown.
A precedent has now been set. The actions and decisions of senior officers in handling disciplinary matters are now open for review many years after the fact, and discipline meted out ex post facto if the review process gleans a result that the current senior officers disagree with. Despite being a highly questionable precept and a slippery slope regarding possible additional punishment for any Sailor who may have committed a transgression and received administrative action or punishment, the precedent is nonetheless set.
Which bring the obvious though uncomfortable and seemingly verboten issue to the fore.
Almost a year to the day before the revelation of Captain Honors' videos was made public, (though shown to 5,000 sailors in 2006), Captain Holly Graf was relieved as CO of USS Cowpens by Admiral Donegan, CSG-5. Captain Graf was a very high-profile female officer in command of a United States Warship. However, her relief was for a long record of cruelty and maltreatment of her Officers and crew, during which there were myriad complaints made by crew members, over the course of her nearly two years in command.
As light was shone on Captain Graf's story, it was revealed that she had had a very similar track record while in command of destroyer USS Winston Churchill (DDG-81). Issues aboard THAT ship included much the same as those on Cowpens that led to Graf's relief. Tantrums, physical abuse (grabbing and in one instance choking), extreme profanity, threats, spitting in the direction of crew members, throwing objects toward crew members, and creating a command climate of "fear and hostility" marked her tenure commanding Churchill, drawing the concern even of a Navy Chaplain over the morale of the crew. Further, Captain Graf's history of misbehavior and abuse went back to her earliest days in the Navy. In addition to problems with her crew (and, apparently, the Royal Navy), she was the cause of an embarrassing diplomatic incident in Australia for which she was forced to submit a written apology.
So the question becomes this: Where is the investigation into why Captain Holly Graf was given a second command at sea after her dismal and abusive performance as CO of Churchill? And where is the investigation regarding whether complaints from Graf's time as CO of Churchill and CO of Cowpens were heard and acted upon?
Do the performance and actions in at least TWO commands on the part of Captain Graf not constitute enough to lose "confidence in (her) ability to lead effectively"? Why was Captain Graf not "held accountable for the poor judgment and inappropriate actions" repeatedly demonstrated until the last days of her SECOND command? Did Captain Graf not display "profound lack of good judgment and professionalism while previously serving" as CO of Churchill? Did not the many, many complaints "call into question (her) character and undermines (her) credibility to continue to serve effectively in command"?
Does the US Navy senior leadership consider Captain Honors' making and showing of some tasteless videos to be a more serious offense than Captain Graf's rampaging conduct as CO aboard two different US Navy Warships? Is the use in an intended comic video of a derogatory term for homosexuals by Captain Honors, the poking of fun at female sailors and officers, and crude allusions to masturbation such egregious acts of malice as to trump several years of (non-comedic) threats, physical and verbal abuse, spitting, humiliation, diplomatic embarrassment, and destruction of the morale and combat effectiveness of TWO warship crews?
If Captain Honors' actions are considered more serious than those of Captain Graf, senior Navy leadership needs to do some very deep soul-searching as to why they believe this is so. (And perhaps get the perspective of someone, Officer or Bluejacket, who had invectives, saliva or a coffee cup hurled in their direction).
If Captain Honors' transgressions are not more serious than those of Captain Graf, then I expect soon to hear about the investigation into why Holly Graf was not relieved of her first command, and another as to why she was given a second command. After all, the precedent for such investigations has already been established by Admiral Harvey and Navy leadership.
I am not going to hold my breath on any investigation as to why Captain Graf stayed in command of Churchill, or was given command (and stayed far too long in command) of Cowpens. I suspect we will hear more about Admiral Rice, and Admiral Spicer, and Admiral Holloway. But I don't really think we will hear any more about Captain Graf's seniors who advanced her into command, kept her there despite her performance, and then gave her ANOTHER one, and allowed that command to continue until an IG investigation mercifully ended things.
When you are a high-profile female Captain in command of a US Navy warship, it seems you get certain considerations that a male officer who has stupidly violated political correctness does not get. And so do your bosses who put you there and kept you there.
What is good for the Goose apparently is not good for the Gander.
********************************************************
Update, courtesy of Neptunus Lex.
Against the recommendations of a great deal of people involved in this sordid affair for a General under honorable conditions, Holly Graf will receive an Honorable Discharge.
Virtually nothing about her situation, the tolerance of her pattern of abusive behavior, selection for command despite her record, nor the handling of the investigation of just who knew about her abusive antics, rings of honesty on the part of the Navy. Why should her discharge?

Posted by
UltimaRatioReg
in
History
,
Navy