Check out this map of piracy incidents from November 1, 2010 through January 10, 2011 (click to enlarge). It is worth noting that many security companies that provide security on commercial vessels disembark at Shalalah, Oman.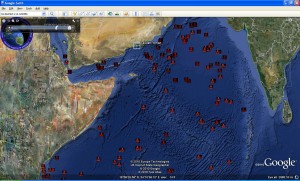 Someone explain to me how the Sea Sheperd Conservation Society is able to track down all of the Japanese whaler operations with three ships and a single helicopter, tail their ships effectively and leverage presence alone to shut down Japanese whaling operations.
But the most powerful Navies in the world can't do the same thing to the motherships supporting piracy from Somalia? We are either not trying, or completely incompetent. There really are no other explanations.

Posted by
galrahn
in
Maritime Security