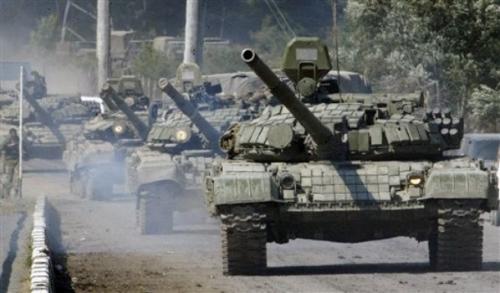 When Russian tanks rolled into the breakaway Georgian enclave of South Ossetia in 2008, a series of military gaffs ensued. Officers were reportedly using personal cellular phones for battlefield communication. Even basic suppression of enemy air defenses appears to have been neglected with the loss of multiple Russian aircraft to a country with no air superiority fighter and only a very limited set of air defense hardware. And for a country Russia borders, target selection for the air force was reportedly almost abysmal. The list goes on.
This is how the west has viewed the Russian invasion of Georgia – another excuse to chuckle over drinks after work. But this misses the far more important point: Russia imposed a military reality through the exercise of military force in its periphery. We can mock it, but every nation that borders Russia saw crystal clearly how a pro-American regime and an American ally that was actively contributing troops to the Iraq campaign at the time was invaded with little more than some strongly worded statements of condemnation from the global superpower. And the militaries that defend the countries of Russia's periphery are almost universally incapable of effectively defending against a Russian onslaught.
In 2000, the Oscar-II SSGN Kursk (K 141) disaster seemed the final deathblow to the capability of the military that Russia had inherited from the Soviet Union. But it was a turning point in the Russian psyche, comparable and concurrent with the rejection of Boris Yeltsin (and with him everything that Russia did not only in the 1990s but under Mikhail Gorbachev) and the election of then-President and still-strongman now-Prime Minister Vladimir Putin. The Kremlin has been reshaping its military ever since. It is important not to overstate the capability of the Russian military, but it is equally important not to understate it and to understand it in its own right and in the appropriate geopolitical context. Each country has unique military challenges. With extraordinarily long, effectively undefendable borders, Russia's military challenges are profound. But rejecting its military because it may not be able to repel, for example, a well-planned, well-positioned conventional assault by the United States has almost no bearing on the practical, real world significance of Russian military power.
Clearly, the Russian military is a shadow of the Soviet Red Army. But though Russian flag officers have made a habit of making absurd statements and the target metrics for reform are consistently not met, that does not mean that there has not been considerable progress in reform in the Russian military. Obviously, Russia is dying demographically. But an entire chapter of history remains to be written before that happens.
And something small, but rather remarkable is happening in Russia: by the end of 2011, all outdated munitions are to have been removed from storage and destroyed. Now the target almost certainly won't be reached, and there are almost certainly degrees of exaggeration to the official statements on the matter. But think about that for a moment: of the things that tend to characterize our preconceptions of the Russian military, improperly stored, neglected and out-of-date munitions are high on the list. Munitions factories have not shut down. And despite the fact that in many ways the Russian defense industry has survived on the laurels of what the Soviet military-industrial complex was on the verge of achieving when the Soviet Union collapsed, Russia continues to manufacture some of the best air defense hardware, high-end military aircraft, diesel-electric submarines and battlefield ballistic missiles (the 9K720 Iskander or SS-26 "Stone") available. Despite China's advanced manufacturing capabilities, it still relies on Russian manufacturers for the most advanced military jet engines.
The Russian military of today warrants more than the off-hand rejection it came to deserve in the late 1990s. And it must be measured and understood for what it is designed to achieve, not by some abstract western standard of how it should go about achieving military objectives. Because in the American distraction with Iraq and Afghanistan, Russia has not simply gotten its act together, but regained dominance over much of its periphery with real strategic and geopolitical consequences for the long term. And it is now acquiring from France modern amphibious assault ships of a caliber that it never built on its own. Not only French, but also South Korean experts (the most efficient shipbuilders in the world today) are now consulting on reshaping the Russian shipbuilding industry.
The next chapter in history will not only be a fascinating and dynamic one, but it will have repercussions long after Russia succumbs to the demographic forces that make it all too easy to reject it in the near term.

Posted by
nhughes
in
Army
,
Foreign Policy
,
History