The Past is Prologue: A Brief Survey of Proceedings Contributors from 1875-1919
There are many theories on the genesis of military innovation. One theorist, Vincent Davis, suggested in his 1967 work "The Politics of Innovation: Patterns in Navy Cases," that the innovation advocate in the Navy is "usually an officer in the broad middle ranks." If this is true, then the concepts which help the United States Navy and Marine Corps operate in the next maritime conflict may very well come from today's junior officers. It's why it's important for those same mid-grade and junior officers to critique rather than criticize policies, programs, processes and platforms and articulate them respectfully in an appropriate forum. Who among those of us over forty would have predicted the respective roles of Youtube as political campaign game-changers, or Facebook and Twitter as a communication method during Iran's Green Revolution in 2009 or the recent riots in Tunisia? Yet those who are half our age employed those tools daily as second-nature much as my generation grew up with a rotary phone and that seemingly musical necessity – the 8-track tape. Might some of our sailors have predicted the social media applications for military operations if they had written about them in a naval forum?
As a member of the U.S. Naval Institute for nearly twenty years and as a recent addition to its Editorial Board, I conducted a brief survey last month on the founding of USNI as a forum for understanding the country's naval force to see what role, if any, our more junior officers had in writing for the magazine, building a dialogue on critical issues, and advancing concepts that would propel the U.S. Navy as a global power in the 20th century.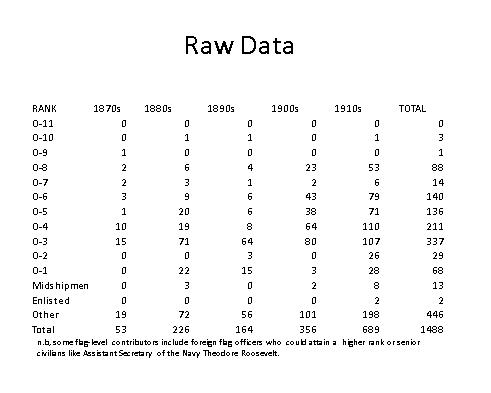 For this exercise, nearly 1,500 articles were tabulated from 1875 to 1919 by contributor rank and then sorted by decade. Civilians contributed a large number; these largely included civilians employed by the Navy as naval constructors or instructors at the Naval Academy.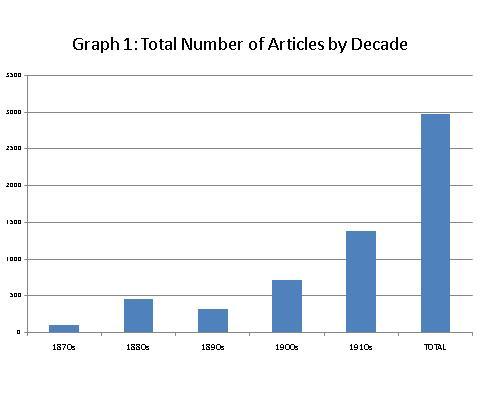 The number of articles increased over the course of the first four decades (see Graph 1) due primarily to the increased frequency of publishing Proceedings as it developed from a quarterly, to a bimonthly, to a monthly journal. A brief drop in the number of articles during the 1890s was a result of longer articles, professional notes, and war reports, leaving less space for more articles.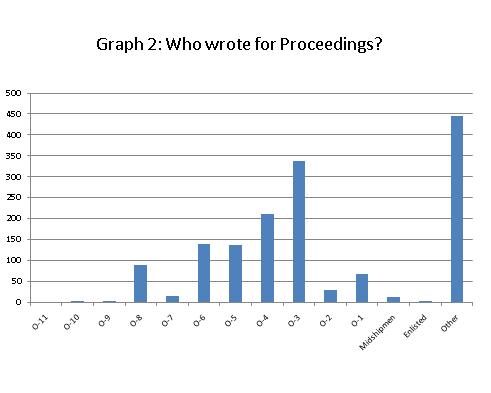 Who wrote for Proceedings? The top group of contributors was, surprisingly, civilians with approximately 450 articles (see Graph 2). They were followed by lieutenants with nearly 350 articles. Combined, however, lieutenants and lieutenant commanders published 748 articles – half of all articles published in Proceedings. Interestingly, lieutenants and lieutenant commanders also accounted for most of the annual prize essay contests.
Among only officer contributors, junior officers led the way. More than half of all officer contributors were ensigns, lieutenant junior grades, and lieutenants. (see Chart 1) Among the mid-grade officers, the majority of contributors were lieutenant commanders. Admittedly, this was a period in the navy's history when senior billets were rarer, resulting in older junior- to mid-grade officers.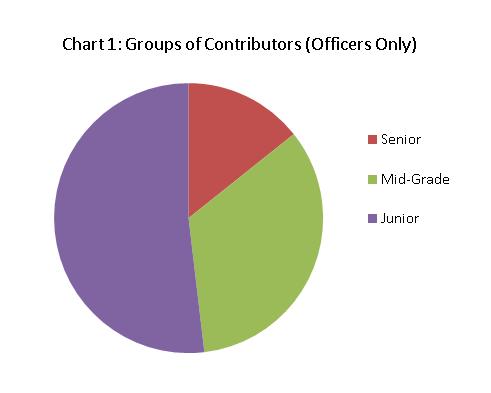 The demographics changed throughout this time period (see Graph 3). During the first two decades of Proceedings, most officer contributors were O-3s and O-4s; absent were writers at the rank of commander and above. This changed dramatically from 1900-1909 not because senior officers suddenly participated, but because many were the same officers, such as Bradley Fiske, who had written for Proceedings at more junior ranks.
Some of the first authors for Proceedings from 1875 to 1889 were names later known for their naval contributions: Bradley Fiske, known for several inventions and prescient concepts, wrote at several ranks including as a Rear Admiral, later becoming President of the U.S. Naval Institute. During his tenure, the USNI secretary was a lieutenant commander who had first written for Proceedings as a lieutenant in 1909 and who eventually rose to the rank of Fleet Admiral, Ernest King. A subsequent secretary was Lieutenant Commander Isaac Kidd. Commander Alfred Thayer Mahan contributed an article on naval education in the 1870s. The 1880s witnessed articles by Lieutenant – later Rear Admiral – Reginald Rowan Belknap on the naval policy of the U.S., Lieutenant Richard Wainwright who later won the Medal of Honor.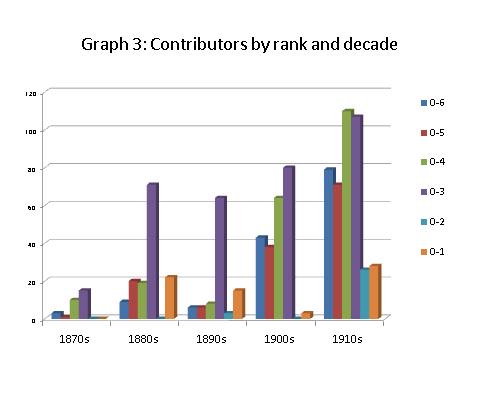 While the time required to flesh out a concept may sometimes seem daunting in the face of long hours deployed or otherwise on duty, there are opportunities. For example, the Naval War College requires papers for its courses. Consider writing those papers not simply with the intent of getting a grade, but in the hope that it can be published (two of my NWC papers were published in Orbis and Vietnam Magazine while others were rejected, but it is possible.)
Was every article superior, every concept groundbreaking from 1875 to 1919? Perhaps, perhaps not, but at least they got the dialogue started on important issues to our Navy and Marine Corps. As it should be today. Just as it is important that the wisdom of today's leadership foster the dialogue and provide guidance for more junior personnel, it is equally important that junior and mid-grade officers and sailors to see the Navy, Marine Corps and the world around them, to identify trends, recognize emerging challenges, and to challenge the status quo itself respectfully, logically, and in an articulate and persuasive manner. Just as they did at the end of the 19th century.
Lieutenant Commander Claude Berube, USNR is a member of the USNI Editorial Board and frequent contributor to Proceedings and Naval History. He teaches at the U.S. Naval Academy. The opinions expressed are his own and not those of the Department of the Navy.

Posted by
LCDR Claude Berube, USNR
in
From our Archive
,
History
,
Navy