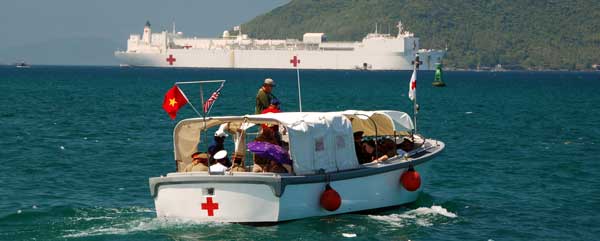 Somehow during his tenure as SOUTHCOM commander, current EUCOM commander and Supreme Allied Commander Europe Admiral James G. Stavridis, found time to pen a 292 page book on the United States' relationship with Central America (except Mexico), South America, and the Caribbean. The book was just published by NDU press and is available for free on their website.
Stavridis' book, Partnership For The Americas, is not your typical command memoir; rather it reads more like a manifesto on the potential of soft power in US-South relations. His main takeaway point: "We are all in this together".
The book covers a range of topics, from counter-narcotics operations to innovation in the Department of Defense, but of particular interest to me is the Admiral's chapter on health engagement. Specifically, the role he argues medical diplomacy can play in a combatant command:
"It may seem at first incongruous for a combatant command, even one which strives to be as interagency-oriented and forward-leaning as U.S. Southern Command, to be engaged in efforts to improve public health. And perhaps it is, particularly if that is how our engagement efforts are expressed or viewed. If, however, we restructure our strategic approach and message to convey that we subscribe to the understanding that "public health" plays a vitally important role in maintaining long-term stability, then we can restate our strategic objectives more along the lines of removing and/or reducing health issues as a potential factor to increased likelihood of conflict. Thus, our continuing commitment to engaging in what some have termed "medical diplomacy" becomes inherently synchronized with our previously stated strategic goals to promote security, enhance stability, and allow for economic prosperity." (Stavridis 2010, 140)
This is not something you would expect to read from a man occupying the same office as Eisenhower and Ridgway. However, Stavridis is absolutely correct. While the core competency of the American military will always be combat operations, there are a growing number areas where United States interests and goodwill can best be secured through soft power, including health diplomacy. In an ideal world these tasks would be the responsibility of USAID and the Department of State, but, to adapt a phrase from former Defense Secretary Donald Rumsfeld: you advance US interests with the agencies you have, not the agencies you want. And if you can do so with hospital ships instead of gunboats, all the better.

Posted by
Christopher Albon
in
Navy
,
Soft Power
Tags:
Soft Power
,
Stavridis