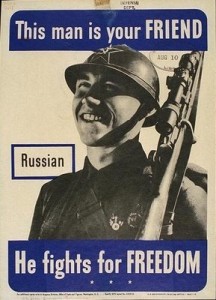 Russia is a riddle wrapped in a mystery inside an enigma.
– Winston Churchill
That is one of the things that makes Russia a great topic.
Join fellow USNI Blogg'r EagleOne and me, Sunday 13 FEB from 5-6pm EST as we discuss Russia for the full hour with our guest, Dr. Dmitry Gorenburg, Senior Analyst at CNA, an Associate at Harvard's Davis Center for Russian and Eurasian Studies, and author of the book Minority Ethnic Mobilization in the Russian Federation
If an hour isn't enough, you can follow his lastest thoughts on Russian Military Reform at his blog or review his list of publications here – but make sure and block out time to join us live as we cover where Russia stands in the 21st Century and how its domestic politics, demographics, the rise of China, and the evolution of its relationships with its near abroad will challenge this important nation.
If you can join us live, pile in with the usual suspects in the chat room during the show where you can offer your own questions and observations to our guests. If you miss the show or want to catch up on the shows you missed – you can always reach the archives at blogtalkradio – or set yourself to get the podcast on iTunes.

Posted by
CDRSalamander
in
Foreign Policy
,
History
,
Podcasts
Tags:
Midrats
,
Russia
,
Russian Navy