Surely, many of you are familiar with the news of four Americans who were captured when their vessel the S/V QUEST by pirates a couple days ago while sailing their yacht through pirate-infested waters. This morning their voyage ended.
In a statement, US Central Command said that negotiations were underway between the US Navy and the pirates, when the US forces heard gunfire coming from the Quest about 0600GMT.

They boarded the ship, killing two pirates in the process, and discovered the four Americans shot. The US Navy sailors attempted to provide first aid but the hostages died, the military said.

"As they responded to the gunfire, reaching and boarding the Quest, the forces discovered all four hostages had been shot by their captors," Gen James Mattis of US Central Command Commander said in a statement.

"We express our deepest condolences for the innocent lives callously lost aboard the Quest," the statement added.

The US Navy captured 13 pirates, and found the remains of two other pirates already dead about the vessel, the US military said. – BBC News
I have to say that I am surprised to hear this news, partly because you think that God might be watching over them given the bible mission that they were conducting. But relying on God to protect you as you plan to travel through pirate-infested waters is no plan at all. After-all the pirates pray to God too and are holding hundreds of seafarers hostage, not to mention a ship full of yachts whose owners were not interested in sailing through the area on their own. Their website makes no mention of the threat of pirates in their 2011 travel plans (page here). But given that pirates have been taking vessels as a revenue-generating scheme, and that live prisoners are worth lots more than dead ones, I just expected them to either end up ashore and hidden in Somalia or wait it out while the US Navy prevents them from taking them ashore.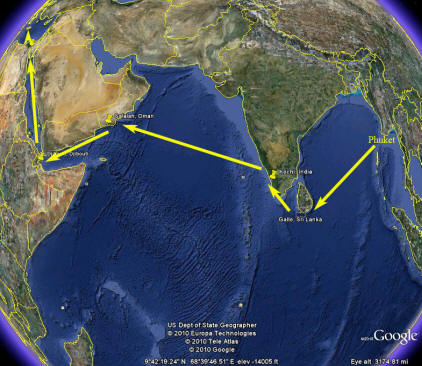 I am not sure what the lessons are to be learned here that are not already known. But for the benefit of those still tempted to run the gauntlet, here is a reminder:
Yachts are extremely vulnerable
Even if the Navy comes to your rescue, it very well might be too late
The close quarters of a yacht keep you in close contact with pirates at all times, including during any attempt to retake the vessel
Pirates are very willing to kill their captives
If attacked, it is extremely important to keep the pirates from getting access to the crew
Piracy in the area is spreading and turning into a free-for-all for the pirates. The game is over for the 13 the Navy caught while retaking the vessel, but the pirates seem to be running the board at the moment.
So, what criminal charges do the 13 face back in the US and might the death penalty be on the table?
UPDATE:
Here is confirmation that they knew what they were sailing into:
Friends of a US couple aboard a yacht hijacked off Somalia on Friday say the pair knew their journey was risky, but were determined to press on with their Christian mission.

In an email sent days before they went missing, Scott and Jean Adam described plans to stay out of touch to hide their location from pirates. – BBC News
Three more very important lessons here:
You can't hide from pirates in the open ocean. It's like trying to hide in the middle of an empty football field.
The pirates are most likely to be where you want them least.
Help is least likely to be where you want it most. A warship 30 miles away is an hour away from helping you. (outside of helo assistance)

Posted by
FFry
in
Maritime Security
,
Piracy
,
Travel