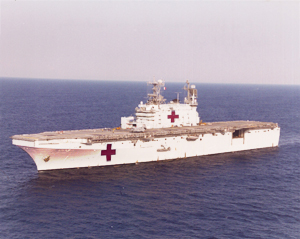 A week ago I was sitting in a meeting where the name of one of the leading contenders to be CJCS came up. Tied to that name was the idea that the "military would get out of HA/DR".
That night the earthquake struck Japan and we now have over 13 ships (including two aircraft carriers) and thousands of Marines and Sailors – some stationed in Japan and others redirected from their deployment – on station and assisting. The idea that we as a government and a military would ever "get out of the HA/DR business" is patently ludicrous…and our response to the earthquake is just one more data point proving so.
As if we somehow needed one. CNA did a study in 1990 of Navy humanitarian operations. Even a quick, non-statistical, review shows that at least once every year since the mid-1950s the Navy has been to one degree or another been involved in a humanitarian operation. Following the Navy response to the 2004 tsunami, USNS Mercy inaugurated a series of "Pacific Partnership" deployments that continue this year with USS Cleveland deploying to Tonga, Vanuatu, Timor-Leste, the Federated States of Micronesia and Papua-New Guinea. On the other side of the world ships have been involved in Southern Partnership Station and African Partnership Station, modeled after the Pacific Partnership missions. And, in every case the ship involved either had to take a military asset off station or out of rotation, or active duty and reserve personnel were called up to man Military Sealift Command ships.
But, last year the House Armed Services, combined with Navy obstinancy, gave me another idea.
The HASC FY2011 Defense Authorization Report (which may never again see the light of day) Section 1024 states that the Secretary of the Navy shall retain the amphibious assault ships that the Navy shall keep Nassau (LHA-4) and Peleliu (LHA-5) in a commissioned and operational status until the delivery to the Navy of the new amphibious assault ships America (LHA-6) and LHA-7, respectively. Which idea, of course, the Navy wasn't too fond of.
At the same time, Navy officials are pressing forward with a proof of concept study to man amphibious ships with merchant marine seamen and officers. Touted as readiness initiative for troubled classes of ships, critics look at the program as another misguided attempt to maintain ship numbers while cutting cost.
But, if Navy is willing to place volunteer civilians on combat ships…then why not reimagine the combat ship AND meet the HASC language AND provide ships that can meet the various partnership missions without impacting the rest of the fleet's obligations?
Over the next six years Navy will retire two amphibious assault ships (LHA) and four amphibious transport docks (LPD). While not economical to refit or fully retain these ships, there is life left in them and with some alterations, they could remain in use – both as commissioned vessels (which add to the overall fleet number) and conduct critical missions over the next decade.
By retaining a Navy crew, completely removing the weapons systems, installing commercial satellite internet access, modifying the Marine berthing compartments and reconfiguring the well deck (or leaving it as is) – oh, and with a LOT of white paint – the Navy would have a platform capable of embarking 1,000 aid workers, teachers, policemen, medical personnel, and so on to move from country to country and teach, train, and help. Think of these ships as the ultimate in Joint – InterAgency – NGO power projection platform.
By having ships like this capable of rapidly embarking DHS and FEMA personnel to serve as a mobile command post after a hurricane, or to mirror the role of USNS Mercy after the tsunami or any of the other iconic relief actions, to include the one going on today in Japan, the Navy would have a tool – that is not armed with anything other than self defense weapons and frees up a front line combat capable unit – and, as trite as it sounds, be part of the "Global Force for Good". It's tough to look at something we do all the time, and think of it as a "lesser included mission"…maybe it's time to put some dedicated resources behind the ever-present reality.

Posted by
M. Ittleschmerz
in
Homeland Security
,
Navy
,
Soft Power