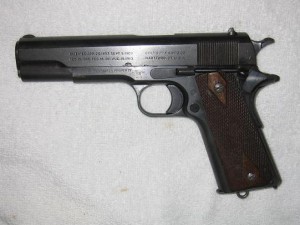 Imagine if you will, a formation of American soldiers chasing Pancho Villa into Mexico in 1916, or moving forward toward the enemy in France in 1918, carrying .69 caliber flintlock muskets or Simeon .54 caliber flintlock pistols. Or tomorrow over the skies of Helmand Province, a Bleriot monoplane chugging its way across the sky, barely making headway in a 30-knot wind. Or armored cruiser USS Olympia, dwarfed by even the smallest frigates, chugging black clouds of coal smoke as she tried to keep up with the Midway (CV-41) Carrier Battle Group as it makes its way to Desert Storm.
An absurd notion, surely, to expect a century-old weapon or weapon system to have any place on a modern battlefield. Yet, after a century of the most profound technological development in the history of mankind, one weapon does remain. That weapon is one is the iconic M1911 .45 automatic. Official nomenclature is the Automatic Pistol, Caliber .45, M1911, but those who adore it know it as "the .45", or "the 1911".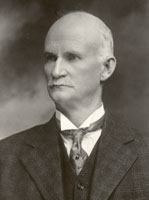 The pistol design is the brainchild of the man the Belgian firm Fabrique Nationale called "the greatest gun designer who ever lived ", John Moses Browning. Browning gave America more than half its 20th Century small arms arsenal, as the inventor of the M1917 .30 caliber water-cooled machine gun, and its air-cooled descendant, the M1919 series, the latter of which which still soldiers on in .30-06 and .308 calibers in several of the world's arsenals. The Browning Automatic Rifle, still the finest weapon of its type ever made, carries its inventor's name. John Browning's other icon, the M2 .50 caliber heavy machine gun, affectionately known as "Ma Deuce", has yet to meet its equal in eight-plus decades of service. There are many other designs, shotguns and rifles, pistols and machine guns, which bear Browning's stamp of genius, as well.
But today, it is an occasion to recognize what is simply the greatest handgun ever designed, the M1911. Its story has been told here before, but is worth the re-telling in part. The weapon remains a favorite in military, law enforcement, and with civilian shooters of all ages, despite newer and more advanced designs using high-capacity magazines and polymers in frame and slide. The M1911 in .45 caliber remains a favorite because of its ease of handling, reliability, accuracy, and power. Though replaced as the US sidearm beginning in the late 1980s by the 9mm Beretta P92 (which, ironically, has a pistol grip too large for smaller female service members and is being replaced in some services), the 1911 remains in service with a number of special forces units, and with USMC MARSOC units, among others.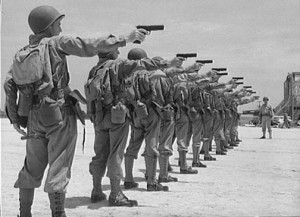 An amazing service record for one of the greatest ever weapons of war. And it will be one hundred years old tomorrow. Though sometimes shortened or widened, or festooned with gadgets, rails, sights, and lights beyond description, the M1911 remains in essence little changed from the weapon officially adopted a century ago, 29 March 1911, as the Automatic Pistol, Caliber .45, Model of 1911.

Posted by
UltimaRatioReg
in
Air Force
,
Army
,
Coast Guard
,
History
,
Marine Corps
,
Navy