I've looked online, and I've asked both on Twitter and Facebook. No one seems to recall this ever happening before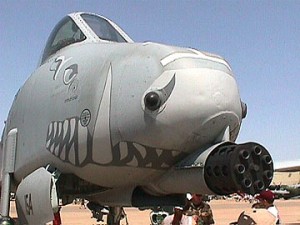 .
Two smaller Libyan crafts were fired upon by the A-10 using its 30mm GAU-8/ Avenger cannon, destroying one and forcing the other to be abandoned.
A P-3, USS BARRY and a USAF A-10 were all engaged against Libya Coast Guard craft yesterday. BARRY "provided situational awareness for the aircraft by managing the airspace and maintaining the maritime picture". Amazing. BZ and well done to all the Sailors and Airmen involved in the fight yesterday.
UPDATE: They're talking about this over at Galrahn's place too.
UPDATE II: Everyone is talking about it, see CDR SALAMANDER's place too

Posted by
CTR1(SW) H. Lucien Gauthier III
in
Air Force
,
Aviation
,
History
,
Navy