In Defense News, US Marine Colonel Mark Desens, CO of 26th MEU currently operating off the coast of Libya, had some very interesting and incisive comments regarding the need for the F-35B STOVL variant of the JSF.
Desens and others noted that the F-35B would be a vast improvement over the Harrier. Not only does it carry more weapons and fuel, its sensors allow it to target enemy air defenses and vacuum up intelligence, surveillance and reconnaissance data and feed it back to the fleet.

"When you look at the capabilities of the F-35B and how much it expands the tool box, that aircraft is going to push us way out in front of any future potential threats out there," the colonel said.
But what really jumps out from Col Desens' comments is the possibility that a smaller aircraft carrier with such a weapon as the F-35B could have efficacy as an alternative to the traditional supercarrier that has been the sole contestant in the US Navy's aircraft carrier building arena since the commissioning of the Forrestals in the late 1950s.
More from Colonel Desens:
"It would be lovely to have an aircraft carrier here, but there are not enough to go round," said Col. Mark Desens, the commander of the 26th Marine Expeditionary Unit, which operates the AV-8Bs aboard the Kearsarge. "What we do have is the opportunity to do a lot of things with this vessel, and we are accomplishing a tremendous return on investment with these six STOVL jets."
He continues:
"With an AV-8B or an F-35B, you get an immediate ability to start impacting a wide range of things," Desens said. "As you look down the road, the need for a STOVL jet sells itself, because you are not going to get more aircraft carriers. An F-35B costs a lot less than a carrier."Desens noted that a STOVL jet can also move ashore with troops as they push farther away from the beachhead, landing and flying from far smaller patches of ground than regular fixed-wing planes.
"You have tremendous operational flexibility if you are going to do a projected land war, like Iraq and Afghanistan, where those jets were sea-based…"
The nuclear-powered Nimitz-class super-carrier has been the symbol of US Naval power and influence for nearly four decades. However, the price tag for such vessels will continue to rise. The first of its class USS Gerald R. Ford is projected to cost upwards of $10 billion. While the Nimitz-class is expected to soldier on for several more decades, operating costs of the 102,000-ton, 5,000-sailor behemoths will continue to be a serious concern in this era of fiscal austerity.
With each crisis anywhere on the globe that involves US interests, the question that is invariably posed is "where are the carriers?"; the latest instance being a mere two weeks ago off Libya. But, does every situation in which the question is asked have to be answered with a Carrier Battle Group built around a CVN? Is it necessary to bring the extremely high-end solution to low- and medium- threat problems? Is that now what we see with billion dollar warships chasing pirate skiffs off Somalia?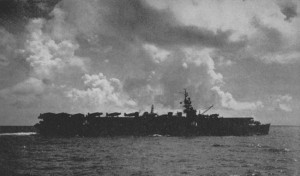 During the Second World War, smaller flattops provided air assets to amphibious assaults and other operations in what we now describe as the Littoral, such as is being conducted in Libya at present. There were myriad reasons for this, but the predominant was the desire not to risk the trump cards, the Fleet Carriers, in confined waters and within range of enemy land-based weapons systems, any more than necessary. One would think a 21st century corollary of that rule is still a good idea in today's A2/AD environment, particularly as we look to the western Pacific.
With the building of the America (LHA-6) class of amphibs, it is possible that the Navy has itself a hull form that could be adapted for the role of smaller aircraft carrier. At 45,000 tons, 844 feet long, with a beam of 106 feet, the Americas will be very similar in dimension, though with a higher displacement, to the famous Essex-class carriers of World War II, one might hesitate to label such a "light carrier". Perhaps, in a redux of previous nomenclature, the former term "attack carrier" (CVA) seems most descriptive. As General Amos, Marine Commandant, noted in January of this year in a speech to the Surface Navy Association, the America class LHA is already "maximized for aviation" already. So let's take the next step of logic.
An adaptation of that warship class, one dedicated to Naval and USMC STOVL aviation assets, one that does NOT have an amphibious mission, doesn't require billeting for 1,700 Marines and their equipment, that doesn't have a requirement for V-22 or attack helicopters as a part of its organic air component (but still capable of handling them if desired), a warship like that could prove exceedingly handy and valuable to a fleet which may be looking at a shortage of its heavyweights.
Of course, the obvious argument about efficiency of sorties is a consideration, but would a warship with a complement of STOVL fighters of the capabilities expected of the F-35B create a new baseline for measuring such efficiency of sortie generation? Would 60-65 aircraft still remain the minimum aircraft complement for efficient operation? I would love to see some projections using the F-35B to that end. The speed of the Americas might have to be enhanced, as the 22-knot capability may or may not be sufficient, but options may be available for more powerful propulsion systems to achieve desired speeds.
In addition, operating costs of such a ship would very likely be significantly less. A crew of 1,000-1,200 Officers and Sailors, with a suitably-sized air component is less than half that of the 4,500-5,000 complement of the Nimitz/Ford CVNs.
If the number of CVNs in commission shrinks to 9 or even 8 in the coming decade, which is a distinct possibility, we are left with a shortage of assets to cover a world-wide commitment. When the question is asked again, as it will be, "Where are the carriers?", there are two answers that we should take great pains to avoid.
The first is "Rusting away in Philadelphia."
The second is "Busy elsewhere, and not coming."
A STOVL-dedicated CVA based on the America-class LHA may provide a cost-effective and combat capable alternative to the CVBG that may or may not be available when we need it. If we are to maintain a global power projection presence, as the Maritime Strategy asserts, the approach offered here deserves more scholarship than it has been given.

Posted by
UltimaRatioReg
in
Air Force
,
Aviation
,
Foreign Policy
,
Hard Power
,
Marine Corps
,
Maritime Security
,
Navy
,
Piracy