Especially in the heat of the 24-hr news cycle and war reporting sometimes on par with a caffeinated dog in a squirrel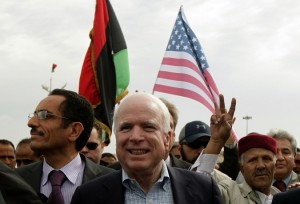 filled park, it is helpful to back up a bit and ponder.
Let's look back to what I posted here on 20 MAR,
Now that we are in, it begs a few questions.

1. Will the anti-Gadaffi forces be able to advance under Coalition top-cover?

2. Do our Coalition partners have the political, military, and financial ability to support a protracted NFZ-L? If partner nations start to fall out over time – when do we decide to remove our support, or do we plan to be the last nation standing, again?

3. As we have intervened in a civil war; what if any obligation do we have to prevent defeat of the rebels' ground forces – or if their defeat is eminent – evacuate them and resettle with their families?

4. What is the diplomatic plan if the Gadaffi forces defeat the rebellion? According to The Telegraph, CJCS Admiral Mullen stated,

Adm Mike Mullen, chairman of the US Joint Chiefs of Staff, said the outcome of military action from the air was "very uncertain" and made it clear that Washington did not see the goal of Operation Odyssey Dawn as removing the Libyan leader from power.
Where we stand 40 days later on the Salamander Four?
1. Yes, and no. Yes: in the static analysis of a poorly-to-un-planned mission, the No-Fly Zone Libya (NFZ-L) worked like a champ. It is what happens when 21st Century air forces go against a poorly maintained one from circa-1970. Same with the ground attack mission-creep that soon followed. Tanks, APC and other armor formations are easy to kill from the air. The enemy gets a vote though. We are not the only ones who improvise, adapt, and overcome. As we did not have a fully fleshed out Combined/Joint Operation at the start with definable End State, Objectives, Phases, or Lines of Operation – much less Branch Plans or Sequels – this is not shocking. We have had some nice Decisive Points – but no one can place them on a LOP, they just are there because they are there. Many have described this as a pick-up game; they are right. We started playing football, evolved into cricket, and now trying to play polo from Shetland Ponies, methinks.
No: we now find ourselves in a classic grinding civil war. The first steps of the ground war have started with Anglo-French-Italian advisers. After jumping into a support role, Europe ran out of weapons and reserves to the point that we are now back in the ground attack game – but only halfheartedly. If reports are to be believed, we are now going to use armed UAS in a CAS role. Really? That is about one notch to the right of putting TLAM into empty tents outside a parade ground – but it is something, in a fashion. We also have Senator McCain (R-AZ) on the ground in Libya today. Feeding great expectations, or a hint of further entanglement as Misrata grinds on and Gadaffi still shows no sign of turning to pink mist anytime soon? Well see.
For now though the facts are clear – the answer to #1 is no, not without CAS, advisers, weapons, and "special" help.
2. The French and the British are still strong. The Italians are thinking about being a more robust friend as their southern islands' beaches start to fill with illegal immigrants. We are doing more again, as this is lasting longer than the Europeans thought. The British are re-learning the costly nature of long-range missions from land-based aircraft and Le Grand Charles can't stay at sea forever. The balance of the European/NATO military contributors are falling the test again – slathering their forces with caveats to the point of limited utility as we see from AFG to the Horn of Africa. Expected. We have not seen a USA CVN yet, but odds are we will see one soon. The French and British will need to rest if this keeps going on. USA CVN have the sortie rate and response time to do what needs to be done for awhile.
No, our allies cannot do this on their own – we will need to do more and unless we want a repeat of Suez, we have to. It is almost past the point of arguing "should" – after awhile of dithering, things can deteriorate to the point that you have to get involved in order to avoid a total collapse and all the negative second and third order effects. Effects BTW, that you (we/they) created. Butterfly Effect or Dithering Effect, either one works. Which is worse, to let a civil war take its own course, or to try to bend it to your will? That is a hard question – but one the West thinks it has answered, but still thinks it is hedging. We crossed the hedging line when we started providing CAS to the rebels. The rebels know that, Gadaffi knows that, people in uniform know that – I'm not sure the balance of everyone else know that though.
3. It seems that we will continue in incrementally increase support to prevent the complete collapse of the Libyan rebellion. The European advisers and Sen. McCain on the ground are proof of that. Incrementalism has never been a real successful military strategy – but it appears it is what we have. As for resettlement – youbetcha. Europe is in quite a pickle – and the idea of another few hundred thousand North and South-Saharan Africans looking for their resettlement camps outside Nice, Birmingham, and Pisa should explain why the Europeans are as motivated as they are.
4. Truth changes. Let's see what is happening up the chain of command.
The leaders of the US, the UK and France have said in a joint letter that there can be no peace in Libya while Muammar Gaddafi stays in power.

Barack Obama, David Cameron and Nicolas Sarkozy say Nato must maintain military operations to protect civilians and maintain pressure on Col Gaddafi.

To allow him to remain in power would "betray" the Libyan people, they write.
Admiral Mullen, call your office.
I think our plan is that we don't have a plan if Gadaffi stays in office. Try writing that article for Naval War College Review. Good luck with that.
Finally, a question I asked in an earlier post at my homeblog.
… do those nations now share responsibility for the tribal bloodshed that may and probably will take place when the rebels take Gadaffi's tribal and governmental strongholds? When they capture his sub-Saharan mercenaries?
Of course they (we) do. Just a few days before Sen. McCain's arrival, in main square of the rebel capital of Benghazi amid the resounding cheer of pro-democracy freedom fighters everywhere – "Allahu Akabar!" – we see the public and brutal beheading of prisoners of war by "our" allies. Just so everyone is clear about whose side we are on and the challenges ahead – the video is on YouTube and LiveLeak. All warnings apply – it is an incredibly brutal thing to see. Take my word – but if you haven't yet accepted the world for what it is – it is there for your viewing if you wish.
Spring will end and the North African Summer will soon start. Interesting times.
UPDATE: I think the latest comments from Admiral Mullen should be taken onboard and pondered.
"It's certainly moving toward a stalemate," said Admiral Mike Mullen,
You get what you plan for.

Posted by
CDRSalamander
in
Foreign Policy
,
Hard Power
Tags:
Libya
,
Operational Planning