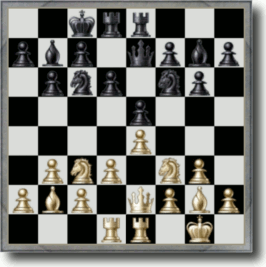 When you play chess, you learn that you don't win because of what you did right. You win because of what your opponent did wrong, that the person who wins made the least amount of mistakes. Many commentators are taking about how the US got Bin Laden. Dr. Barnett over at Time's Battleland Blog mentions Boyd's take on Sun Tsu, "Interaction permits vitality and growth, while isolation leads to decay and disintegration". The credit for this isolation is given to the US by the constant pressure we placed on Bin Laden in our efforts to find him. But, one thing I am stuck by, is the lack of mention of Bin Laden by anyone, on either side, for the majority of any of the wars.
Since the Taliban lost control of Afghanistan and ran South of the Durand line, our strategy in Afghanistan has not focused on Bin Laden. Since that time we've focused on rebuilding two countries, and termed our enemies as those who are against stable and viable States. The moves we have decided to make have only been in terms of isolation by proxy. Our ability to articulate our goals and the benefits of a liberal system of governance have not been exceedingly successful. We did not isolate Bin Laden. Bin Laden, his ideals and his own strategy did that.
We originally went after a small group who wished to see grand political change from India to North Africa and used the United States as their narrative's foil. Before 9/11 the perceived size and ability of Al Qaeda was not considered a threat. From the hysteria of 9/11 our perceptions changed and our enemy seemed much larger and more capable. As we got onto the ground first in Afghanistan, then into Iraq, the Horn of Africa and the Arabian Peninsula we found that not everyone who uses violence and quotes the Koran thinks the same way Bin Laden does. Those who we war against today, have much more local aims than Al Aqaeda does and only align themselves with a more popular organization for clout.
We've found that "Global Jihad" has an inherently local flavor. The groups and organizations we fight against form strategic partnerships based upon very specific criteria that do not readily lead to a Caliphate, as the notion of a Caliphate is not something many will rally around. The central failing of Bin Laden has been that you can't talk to people about radical political change across much of the Eurasian and African landmass when they still worry about feeding their families and the security of their neighborhoods, let alone regional security and clear political hegemony. Bin Laden's dreams fall flat, even with a central enemy to rally around. We didn't isolate Bin Laden in any meaningful way. The images of Bin Laden looking like Howard Hughes are fitting not in that he was stuck in a building. But, that he was looking back over recordings of when his message was still viable.
How many right moves have we made, and how many wrong moves have our enemies made? But, the question is more than that, isn't it? We're playing a game of chess, where we're also switching opponents. Bin Laden made a lot of wrong moves. But, what of the rest of the players? There's a lot more isolation to be done. The war isn't about geopolitics as much as it used to be, we enter the middle game.

Posted by
CTR1(SW) H. Lucien Gauthier III
in
History
,
Strategy
,
Tactics