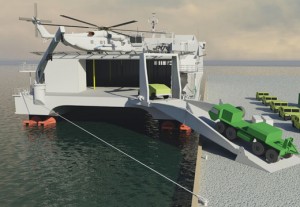 When you scan over it fast – it is really just a small transport, right? For such a small ship with such a humble mission – JHSV continues to bring a lot of interest. Why?
Along with co-host and fellow USNIBlogg'r EagleOne, we hosted a panel discussion this weekend focused on just one thing; the Joint High Speed Vessel (JHSV).
To discuss this curious little ship for the full hour, we brought together John Patch, CDR USN Ret., Associate Professor of Strategic Intelligence at the US Army War College's Center for Strategic Leadership, and "Leesea" a former SWO who has managed sealift ships for the Military Sealift Command since 1980 to include the original charter of the HSV WestPac Express.
Why do we need JHSV, what requirement does it meet? How is the program from a manning, shipbuilding, and development perspective viewed? What missions can/should it do and how should it be armed, if at all?
Grab a fresh cup of coffee, and click here to give it a listen and help us ponder.

Posted by
CDRSalamander
in
Marine Corps
Tags:
disaster response
,
humanitarian response
,
LCS
,
Merchant Marine
,
Midrats
,
msc
,
Shipbuilding