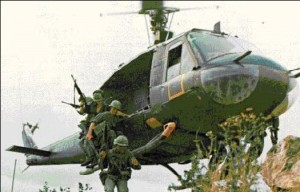 Okay, this isn't a Navy or Marine Corps-centric post. Yet, I wager it will touch a nerve or a heart string in all the zoomies and wop-wops out there who have seen a favorite airframe pass out of service. And perhaps to those Sailors who have decommissioned a ship or Marines who've retired a weapon system whose service life coincided with theirs.
On 17 May 2011, the United States Army officially retired the UH-1 series of helicopters, the famous "Hueys", from the Army inventory. Among the words spoken at the event, the most moving come from CW4 Lawrence Castagneto, an Army Aviator who flew the iconic helicopter in the war for which the Huey has become symbolic.
To those in the crowd that have had the honor to fly, crew, or ride this magnificent machine in combat, we are the chosen few, the lucky ones. They understand what this aircraft means, and how hard it is for me to describe my feelings about her as a Vietnam combat pilot, for she is alive, has a life of her own, and has been a life long friend.
How do I break down in a few minutes a 42 year love affair, she is as much a part of me, and to so many others, as the blood that flows through our veins. Try to imagine all those touched over the years …by the shadow of her blades.

Other aircraft can fly overhead and some will look up and some may not; or even recognize what they see but, when a Huey flies over everyone looks up and everyone knows who she is; young or old all over the world, she connects with all. To those that rode her into combat, the sound of those blades causes our heart beat to rise, and breaths to quicken, in anticipation of seeing that beautiful machine fly overhead…
The Navy and Marine Corps continue to fly the UH-1 platform, with the aging UH-1N (HH-1N in the Navy) being replaced, in dribs and drabs, by the UH-1Y. But for the United States Army, the distinctive twin-rotor whump of the Huey that has been seen over virtually every major action of the last five decades is gone forever. Especially to men like Chief Castagneto, the sound, and the bird that made it, will not soon be forgotten.
Almost forgot: H/T to Sean C.

Posted by
UltimaRatioReg
in
Army
,
Aviation
,
History
,
Marine Corps
,
Navy