The Allied invasion of France began today 67 years ago, on June 6, 1944.
The Allies were already in Europe (Rome had been liberated a couple of days earlier after a hard-fought campaign up Italy) but through France lay the fastest path to Germany from the West.
As always, behind the landing craft carrying the Allied forces and behind the paratroopers was a huge logistics support train. It was not enough to get troops into France – they had to be sustained, fed, provided with ammo and fuel to allow them to hold and expand the beachhead.
One aspect of this support effort was the creation of artificial harbors to allow for the smooth flow of supplies and fresh personnel into the newly occupied areas. Part of this effort included the intentional sinking of old merchant ships and war ships off the landing beaches to form breakwaters. These ships, called "Corn Cobs" created "Gooseberries" which allowed "Mulberries" to perform their mission. See my home blog post here for more background. Photo below shows a beachhead with the sunken Gooseberries offshore.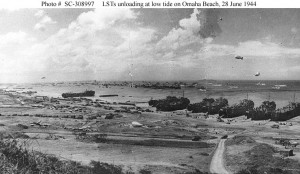 A force of Navy personnel manned anti-aircraft weapons on these Corn Cobs/Gooseberries – members of the Naval Armed Guard and suffered attack by air and from shore.
In additions, the Naval Armed Guard also rode ships carrying supplies from Britain to France and fought off air, surface and submarine attacks, as set out here.
While today we pause to remember the courage of the invasion force, take a few seconds to think of those who served in support of the landing forces as the Allies pushed into France.
Update (June 8): UPDATE: Interesting read from the Navy Department Library: Miracle Harbor

Posted by
Mark Tempest
in
History
,
Navy