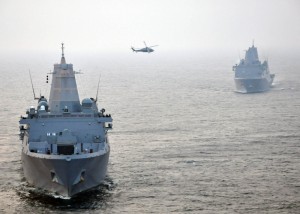 Admiral Harvey posted to his blog that SAN ANTONIO is underway again.
The hardest thing I've ever done in my life was serve aboard SAN, especially during the last deployment and the start of the yards period right after — Afghanistan was nothing compared to the deployment aboard SAN (granted, I was a fobbit out there). I am incredibly proud to have served aboard her, and of my Shipmates in seeing her underway again, especially of those still aboard who checked-in the same year I did (2006).
Galrahn had a post the other day saying that no one has been held responsible for all the challenges SAN and the class have had. I would add a caveat to his statement: The crew has been held responsible for all of the challenges. The crew has constantly worked to meet those responsibilities — no matter what happens the crew returns to the 17 every day, stands their watches, works to fix the problems. There were times when I couldn't get my head around how the Snipes did it, how they stood all the watches, how they would be so ambivalent over being doused with lube oil multiple times during the deployment, how they were able to keep pushing despite challenge after challenge was discovered. The ITs running all over the Ship dealing with SWAN challenges. The officers and Chiefs earnestly working to manage all of it, and also standing their watches. Through three 'generations' of crews I watched and was apart of all this.
Outside the skin of the Ship, you don't see nor hear it. But, there's a lot of emotion invested by the crew into their Ship, a lot of emotion. The sweat and tired eyes are just the tip of the iceberg. Coming back from the maiden deployment, I was in a way worse state of mind than when I came back from Afghanistan.
If you haven't seen the door to the chartroom, it's well worth it. As it is emblematic of the spirit that has carried the crew through it all. It has never been easy to read Naval blogs as I do being a SAN ANTONIO Sailor. You can't help but take even the best intentioned criticism of the Ship a little personal. But, because of the crew I will always hold my head high and say I sailed in LPD 17 for the maiden deployment — I was there. HOOYAH SAN ANTONIO!

Posted by
CTR1(SW) H. Lucien Gauthier III
in
Navy