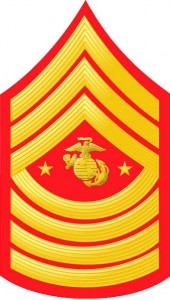 On 8 June 2011, the United States Marine Corps conducted a post and relief of the senior enlisted Marine in the Corps at Marine Barracks 8th and I, Washington DC. SgtMaj Carlton W. Kent was relieved as Sergeant Major of the Marine Corps by SgtMaj Michael Barrett, who becomes the 17th Sergeant Major of the Marine Corps. The relief brings to an end SgtMaj Kent's 35 year career in the Corps.
I have had the honor and privilege to serve with SgtMaj Kent on two occasions, on Okinawa in 1996 and in Iraq (Where he was SgtMaj of I MEF) in 2004. He is a legend in our Corps, an inspiration and example to all Marines, but particularly to the SNCO, NCO, and junior enlisted Marines, to whom his dedication was boundless. A story of that dedication was recently in the Marine Corps Times. That story discussed, among other things, SgtMaj Kent's leadership in the furnace of combat of Fallujah:
After the bloody fight in the house, Kent spoke to him and his fellow Marines at Camp Fallujah. Wounded, dirty and beaten down, the Marines choked up as Kent told them to honor the sacrifice of their fallen brothers, Workman said in his book.

"I know it's tough right now. I know you're hurting," Kent said that day, according to Workman's book. "We all are. But I want you to keep your heads up. We're in a fight with a determined, fanatical enemy, and I'm going to need each of you in the weeks to come."
Such is the man and Marine that SgtMaj Kent has been, each and every day. And it is why the young Marines, hardened by months of combat, looked upon him with a certain reverence which I have seen exceedingly rarely in my 25+ years in the Corps.
Farewell, SgtMaj Kent, and following seas. The impact you have had on countless young Marines in their careers in the Corps and in the rest of their lives cannot be overstated.
Welcome, SgtMaj Barrett, good luck and Godspeed. The boots you fill have made enormous tracks across the storied history of our Corps.

Posted by
UltimaRatioReg
in
Hard Power
,
History
,
Marine Corps