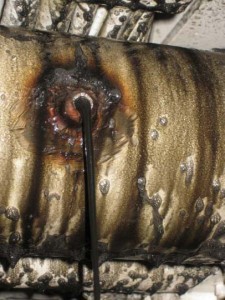 Put a few things in your nogg'n for a minute. Put a little Eisenhower mixed in with the Navy's shipbuilding performance over the first decade of this century – the lost decade of shipbuilding with such wonderfully run programs such as DDG-1000, LPD-17, and the ever-changing LCS – then leaven it a healthy cynicism that any Business Ethics professor at the post-graduate level can give you. Sprinkle generously with a knowledge of the exceptionally generous retirement packages our retiring Flag Officers receive.
As that soaks in, read this.
Chuck Goddard, a former program executive officer for ships (PEO Ships) for the U.S. Navy's Naval Sea Systems Command (NAVSEA), has been named president and chief executive of Wisconsin-based Marinette Marine, builders of the LCS 1 Freedom-class littoral combat ships (LCS).

The announcement was made June 13 by Fred Moosally, a former Navy captain and Lockheed executive who is president and CEO of Fincantieri Marine Group, the Italian parent of Marinette Marine.

Goddard, who retired from the Navy in 2008, previously supported a number of programs at Lockheed's Maritime Systems and Sensors division, which oversaw the company's LCS effort.
A recurring theme over at the homeblog has been the cringe-inducing revolving door between the uniformed Flag Officer on day one – and the employee of the once overseen defense contractor on day two. It doesn't smell right, and it isn't. There should be at least a 5-year "cooling off period" between retirement from active duty for Flag Officers and employment by companies they may have had a relationship with while in an official capacity within, lets call it, 5-years of retirement.
"5-n-5 to keep faith in the system alive." I'm sure there are better slogans, but that's a start.
Goddard doesn't come right to MMC from active duty though – after he left active duty he went to, shocking I know,
… Mr. Goddard was with Lockheed Martin for three years as director of Aegis Program Integration and Capture Manager for the Aegis Combat Systems Engineering Agent (CSEA) competition.
Our friend Tim Colton makes a good point.
… he has no industrial or business experience of any kind whatever – working in a naval shipyard doesn't count – and is, therefore, totally unqualified to run a ship construction company.
Why is he running it then? I'll let you ponder that as well.
Has he done anything wrong? No, of course not – that isn't the point. The system is the system and all indications are that everything that Goddard has done in his professional capacity both in uniform and since retirement is exceptional and above board – again, that isn't the point.
People, rightly, wonder what has happened to the Navy's ability to build an affordable, efficient, and effective Fleet. There is cynicism and a lack in trust from Congress to the deckplates about the word of Navy Flag Officers. It doesn't happen by accident. Revolving doors from Fleet to Food Trough does not help as people will question motivation, candor, and priorities.
Oh, one last note – if Goddard's name rings a bell, here is why.

Posted by
CDRSalamander
in
Navy
Tags:
LCS
,
Shipbuilding